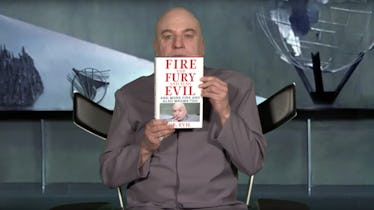 Dr. Evil Returned To Take Some Swipes At Trump & The Video Will Make You Crack Up
NBC
Late night TV got a surprise visit from a most evil guest on Wednesday, April 4. Actor Mike Myers revived his iconic Austin Powers super-villain, hellbent on world domination on The Tonight Show with Jimmy Fallon. The video of Dr. Evil on Jimmy Fallon is bizarrely hilarious and finds the doctor recently fired from the Trump Administration.
Fallon opened the interview by incredulously announcing breaking news that yet another member of President Donald Trump's cabinet was leaving, and that The Tonight Show had booked said person for an exclusive interview. The camera then cut to Dr. Evil, who did his famous super-villain-swivel-chair maneuver — his pinky finger pointing at the corner of his mouth. The audience erupted in laughter, as did I.
Fallon then tried to play it cool, but, perhaps unsurprisingly, he had some difficulty keeping a straight face. "Dr. Evil?!" Fallon said, fighting back a smirk.
"No, it's Adam Levine," Dr. Evil quipped, nodding to Levine's swivel-chair gig as a judge on The Voice.
Fallon continued to set up the bit, saying, "I had no idea you were a part of the Trump Administration! What exactly did you do there?"
"Well naturally I was going to be Secretary of Evil," he replied. "But Steve Bannon got that job."
That joke fell a little flat, since Steve Bannon, Trump's former chief strategist, was fired from the administration in August 2017. But Myers' enthusiasm to be back in the Dr. Evil costume quickly won everyone back over. He wiggled in his chair and returned his pinky finger to the corner of his mouth, clearly very pleased with himself.
Either way, it's the surprise and familiarity of Dr. Evil's ridiculous charisma — coupled with the fact that audiences haven't seen him or his keeper, Mike Myers, in the public eye, for quite awhile (his last billed starring role was the Shrek franchise) — that seemed to keep the audience roaring.
If Netflix and the response to Myers on Twitter and are any indication — think Full House and Roseanne reboots — it seems as though nostalgia is popular these days. We can only speculate as to where the rumored Austin Powers 4 project stands with Hollywood, but Myers has weighed in on the popularity of nostalgia lately, telling The Hollywood Reporter in April 2017 that he'd love to make another movie. Perhaps that's what prompted him to revive Dr. Evil Wednesday night?
The origins of this irreverent franchise are surprisingly heartwarming: Myers got the idea for these characters from his late father. He told The Hollywood Reporter last year,
After my dad died in 1991, I was taking stock of his influence on me as a person and his influence on me with comedy in general. So Austin Powers was a tribute to my father, who [introduced me to] James Bond, Peter Sellers, The Beatles, The Goodies, Peter Cook and Dudley Moore.
Coincidentally, in the Year of our Lord 2018, Dr. Evil just happened to be the perfect mix of an unexpected, nostalgic, apt fictional character to have been expelled from the Trump administration. Dr. Evil joked with Fallon that he really hit it off with U.S. Department of Housing and Urban Development Secretary Ben Carson. Why? "We were both evil doctors who didn't know why we were there," Dr. Evil said, again grinning hilariously at his own joke.
He also jokingly promoted his new book, Fire and Fury and Also Evil And More Fire And Also Magma Too, in reference to the White House expose published last year by Michael Wolff. Fallon recommended Dr. Evil change the title. "Alright then, how about Sh*t-show?" Dr. Evil shot back.
Naturally, Dr. Evil didn't leave before announcing his presidential bid for 2020. "I've even got my own merch," he joked.
"Plus, I've found the perfect running mate," Dr. Evil said. "The only man who's more hated right now than Donald Trump. Evil/Zuckerberg 2020! Yah. Yah. Hey America, get ready to be poked!"
Who knew Dr. Evil would be so suited for topical humor?