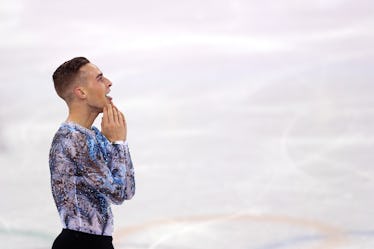 The Video Of Adam Rippon's Short Program Shows Exactly Why We All Love Him
Maddie Meyer/Getty Images Sport/Getty Images
The country needs more heroes and Adam Rippon is up for the challenge. The 28-year-old figure skater is not only slaying on the ice at the 2018 Winter Olympics, but he also has the personality of your favorite reality TV star without the BS. On Feb. 15, he took to the rink once again in PyeongChang, South Korea, and the video of Adam Rippon's short program skate will have you feeling like a damn gazelle.
If you've been following Rippon at all, you know he is here to have fun and win. His candid interviews, festive attire, and full-on dialogue about Mike Pence has captured America's attention. Not for nothing, this guy is a star. So far, he's already won a bronze medal as part of the U.S. figure skating team, and on Feb 15., he absolutely killed it in his short program, skating with flair, sass, and style. Apparently the judges thought so too — they gave him a score of 87.95, to take the lead in the event.
Sadly, he didn't hold the lead for that long — Russian athlete Dmitriy Aliev, whose performance was next up, quickly passed him with marks of 98.98.
In general, Rippon's genuine likability and attitude toward the Olympics has been a total breath of fresh air. In one of my favorite post-skate interviews, he talked to NBC host, Mike Tirico, about where he was this time four years ago compared to where he is today. Tirico asked, "What's been the vibe for you sitting down in the box and then performing for your teammates tonight?" Rippon's response was so genuine and funny. He said,
You know, especially tonight, my friend Mirai [Nagasu] and I… four years ago, we got In-N-Out, we went back to her house, we climbed up to the roof of her house, and we were eating In-N-Out because we were so upset that we weren't at the Olympic Games. And tonight, you know, the Olympics are truly magical, because we came out here tonight, and — we're roommates here, staying at the Olympic Village — we gave each other a hug, and I said, "You know, Mirai, we're here! We did it!" And we both went out there and we both had these great skates today. To do that for our team is just, like—it's so amazing.
On Feb. 15, the world watched Rippon absolutely kill it. Take a look.
If you haven't caught on, he actually has a signature move. It's called the "Rippon Lutz," and it's fabulous. Basically, it's your average triple lutz (HAHA, "AVERAGE") but Rippon clasps his arms above his head in the air. It looks a little something like this:
In an old interview with Absolute Skating, he once talked about how the "Rippon Lutz" came to be. He explained,
Well, there were times when I was first learning it that I would miss my hands and my arms and shoulders would go all over the place. But I've worked on it — and of course there's the rare attempt when things don't work — but I've worked on it a lot and I'm really proud to have such a unique element.
Unique, special, new, exciting - all of these words work when describing this guy.
Another headline you'll see about Rippon is that he and U.S. skier Gus Kenworthy are the first two openly gay Olympic athletes. Rippon tweeted about how he was once asked what it's like to be a gay athlete, and how he responded that it's just like being a straight athlete, "but usually done with better eyebrows."
He and Kenworthy also posted a series of awesome photos together from the Olympic Opening Ceremonies. Kenworthy captioned the pictures, "We're here. We're Queer. Get used to to it."
Rippon, I love you, man. Congratulations on everything!
Erin Jackson is an inline skating world medalist and roller derby MVP. She dreamed of skating in the Olympics, but to do that, she had to get on ice. She took her first steps on a long-track course in 2016 and started training professionally in September 2017. Four months later, she qualified for the Olympic Winter Games. Check out Elite Daily Insights' video on Jackson's incredible story: