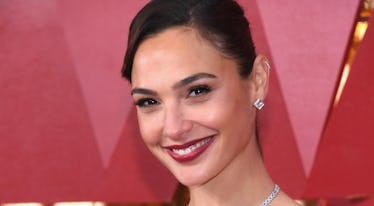 Actors Left The Oscars To Crash A Movie Theater & The Video Is Hilarious
Kevork Djansezian/Getty Images
Jimmy Kimmel has done it yet again. When the comedian hosted the Oscars last year, he brought in a group of Hollywood tourists to meet a ton of celebrities in the middle of the show, and this year, Kimmel brought the stars to the people. Halfway through the 90th annual Academy Awards, Kimmel invited a star-packed group from the audience to surprise some unsuspecting moviegoers. And the video of actors surprising fans at the Oscars is seriously a good time.
It turns out, Jimmy Kimmel knows what all of us Oscar viewers know: The ceremony tends to lag a bit in the middle. I mean, this thing is supposed to last three hours, and it almost always goes over. For a pick-me-up in the middle, Kimmel made a plan to get some of the night's stars up and moving... and to surprise some movie fans in the process. He asked for a bunch of stars to join him in walking across the street to a packed movie theater, which was showing an early screening of A Wrinkle in Time, and surprise the unsuspecting crowd.
After revealing his plan, a group of massive stars volunteered to join Jimmy Kimmel in his surprise. That group consisted of: Ansel Elgort, Armie Hammer, Lupita Nyong'o, Emily Blunt, Margot Robbie, Guillermo de Toro, Mark Hamill, Lin Manuel Miranda, and Gal Gadot. Kimmel and Gadot were the first to step in front of the crowd, who all completely lost their minds. But that was nothing compared to the hysteria that ensued when Kimmel and Gadot welcomed the rest of their superstar group into the movie theater, all equipped with buckets of candy, a giant sub sandwich, and a pair of hot dog cannons. And yes, of course, it was Hammer and Elgort who were the ones firing off hot dogs into the crowd. Check out the video below:
As the surprised crowd continued to scream in excitement at all of the movie stars (and junk food) that were suddenly right in front of them, Jimmy Kimmel went on to reveal that they were all being broadcast live during the 90th Annual Academy Awards telecast at that very moment. Kimmel also invited a random moviegoer up to cut to the next presenters, which lead to a man named Mike announcing that Tiffany Haddish and Maya Rudolph were taking to the stage.
The bit was very reminiscent to a similar stunt that Jimmy Kimmel pulled last year, when he served as the Academy Awards host for the first time. Back during the 2017 ceremony, Kimmel invited a group of random tourists roaming Hollywood into the awards ceremony to shake hands and take selfies with some of the biggest movie stars in the world. That year, random people got to interact with a ton of amazing stars, even including two of the tourists getting a faux wedding officiated by none other than Denzel Washington. This year, unsuspecting strangers similarly got to meet and take some pics with huge movie stars, except it was the stars that came to them instead of the other way around. Although, to be honest, I would have to imagine that some people might have been a little upset that their screening of A Wrinkle in Time got interrupted. Like, what if it had just gotten to a really pivotal scene!?
All in all, the segment served as a bit of fun and an injection of excitement in the middle of the awards ceremony. Although it did introduce a new fear into my life: going to the movies in sweatpants and then randomly finding out halfway through the movie that millions of people are seeing me on their TVs.