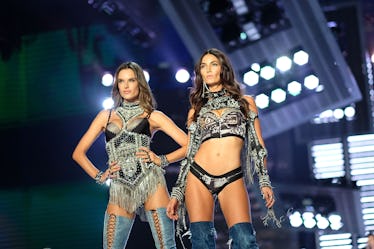 These Models Did Kung Fu During The VS Fashion Show & Twitter Was Not About It
Matt Winkelmeyer/Getty Images Entertainment/Getty Images
We all have been waiting with anticipation for the Victoria's Secret Fashion Show to grace our television screens. While we saw the usual — models, great performers, amazing undies — there were a few unexpected... surprises. The Victoria's Secret Fashion Show kung fu battle was something I think viewers (including myself) could have lived without.
Yes, you read that right. Two VS models engaged in a kung fu battle. Why? Why the hell not, I guess. Since the show took place in Shanghai, China, they tried to show some of the local culture, but it resulted in a very awkward few minutes of television.
Victoria's Secret veterans, Jasmine Tookes and Josephine Skriver, visited a temple in Shanghai and were trained in the ancient art of kung fu by Max Huang. Fun fact I learned from Huang's Instagram: He's an actor and a stunt coordinator at Jackie Chan Stunt Team. Don't worry about our precious models, they were in safe hands.
The first awkward thing that I was having a hard time getting past was the setup. Huang was joined by a team of other kung fu artists. At the beginning, the whole group engaged in a series of coordinated kung fu movements. Then, Huang started "training" Tookes and Skriver while the rest of the group literally just stood and watched. You're telling me, all those people just stood and watched that whole time? Someone must've needed a snack or bathroom break. Not buying it.
Then, after the girls were properly trained, they engaged in a... battle? They basically just exchanged a couple of movements with whooshing sounds in the background. It was weird, and a bit uncalled for. Needless to say, Twitter agreed.
The Victoria's Secret Fashion Show wasn't just one big cheese-fest. Goddess walking among us, Lais Ribeiro, wore this year's fantasy bra and rocked it. According to PR Newswire, the $2 million Demi bra was, "designed exclusively for Victoria's Secret by world-renowned jeweler Mouawad," the bra is "handset with diamonds, yellow sapphires and blue topaz in 18 karat gold."
Obviously, she looked amazing. The model held in the big secret until Nov. 1 when she posted a photo on Instagram with the caption,
I've been holding this secret for too long and I am beyond honor to announce that I will be wearing it the Champagne Nights Fantasy Bra this year! I am very happy and thankful for my Victoria's Secret family for trusting me and all the support from my on family, friends and fans! THANK YOU SOMUCH!!! its official!!
She walked like a total pro on the catwalk and really showed how much she deserved to wear the fantasy bra down the runway. Ribeiro did not take the honor lightly. Wearing the coveted bra for her sixth strut down the VS runway proved to be an emotional experience for the model. She said in a video on People.com,
I never cried so much in my entire life — and I have a baby. It was so emotional. I couldn't believe it when they told me. It was so beautiful.
She continued,
Who doesn't dream about wearing the Fantasy Bra — I mean it's an honor to be among Gisele [Bündchen], Candice [Swanepoel], Adriana [Lima], and all the big top models who have worn it in the past. I get too emotional talking about this. I have to work on that.
Obviously, the fantasy bra was given to the right person — Ribeiro did a spectacular job.
The Victoria's Secret Fashion Show came and went so fast. We saw amazing models, Harry Styles dancing, and one model take a tumble with unbelievable grace. Every year after the show I have the same thought — how will Victoria's Secret ever top themselves next year?
Check out the entire Gen Why series and other videos on Facebook and the Bustle app across Apple TV, Roku, and Amazon Fire TV.