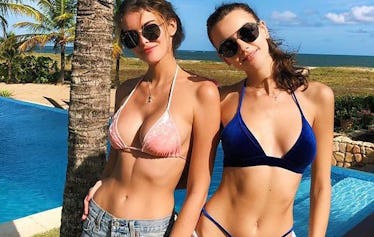 10 Velvet Bikinis Under $40, So You Still Have Enough Money To Spend On Drinks
olesyasenchenko on Instagram
Florals might not be groundbreaking for spring, but you know what is? Velvet. The shiny, color-changing fabric was my go-to this fall, and luckily, I don't have to bid adieu to it just yet — though, I do have to wear much less of it. The velvet bikini is about to be the hottest trend this spring, and while that might quite literally be the case, I'm actually really feeling it.
Whether you're hitting some super-secluded bougie island this spring break, dancing in the desert at Coachella or taking a booze cruise with your girls, you need a new bathing suit for all the Instagrams you're about to post. But remember, everyone there (wherever "there" will be for you) is shopping for their bikinis now, too, so instead of going with the more obvious options like metallics, crochet, or tribal prints, shop for one that will make you stand out. And since velvet is by far the least obvious, I say load up on them now and get your photos in before everyone else follows suit (pun intended).
While you might've already seen women like Kylie Jenner wearing the trend on Instagram, the unexpected bathing-suit option is just now starting to hit stores. Since you probably already blew most of your spring-break budget on the destination — seriously, Coachella tickets are no joke! — I searched everywhere for the most-affordable velvet bathing suits. Scroll down for the bikinis I've already added to my virtual shopping carts.
Just one thing first: S ubmerging the delicate fabric in a pool of chlorine and having it so close to tanning oils and sunscreen might sound completely impractical — not that that's never stopped you in your pursuit of the perfect selfie — but these velvet swimsuits are actually made from a fabric blend of nylon and Lycra, which is exactly what every other bikini in your drawer is made of, so you won't have to worry about ruining it. OK, now you can shop sans fabric concerns.
I'm obsessed with the details on this Forever 21 bikini. The hardware, contrasting colors, and fabrics feel so expensive.
A sapphire velvet bikini for only $8 is almost as hard to come by as the heart necklace in Titanic. OK, that might be slightly dramatic, but that's cheaper than your morning coffee, so...
I'm ordering this one in every color because the high-waisted bottoms are super functional, and the full-coverage top will keep the girls in place, no matter how much dancing I do.
A cutout plus a wrap detail equals a double dose of yasss.
A one piece in bubble-gum pink velvet that hits high on the hips feels like a no brainer, amiright?
As if a velvet one piece wasn't enough, this one is also covered in studs. There's always that one girl who wants to feel even more extra. We love that girl.
Is it just me or is this entire bikini screaming '90s vibes?
The cute knot on the front of this top makes the entire look feel effortless. Like, "oh, I just threw this on and tied a knot."
The cut of this two piece is pretty standard, but the color will look amazing on every skin tone. Sit poolside or strike a pose on the beach — you know the one: Legs stretched out, ankles crossed, you leaning back with your arms above your head — and your Instagram feed will feel anything but basic.
If you desire a little bit of a support up top (same!), this scoop neck top will have you covered in the most comfortable way. Praise.