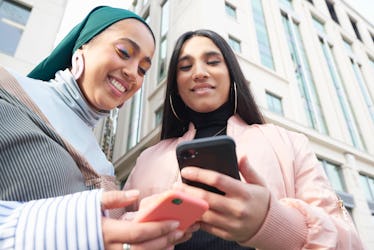 The V-Day Text To Send Your Partner, Based On Their Zodiac Sign
You've already picked out the perfect V-Day present and made reservations at your regular tapas place. You know what time you're meeting, what train you're taking, and, most importantly, the iconic outfit you're going to wear for your big night out. As you glance through your phone (read: scrolling through Insta to see everyone else's cute couple pics), you realize you still haven't wished your boo a Happy Valentine's Day yet. And as you start to type out the perfect Valentine's Day text to send your partner, you can't help but smile and think about how much you love them.
Sending your flame a sweet message on V-Day is like the grownup version of giving them a packet of Fun Dip. And while you should never do anything that makes you uncomfortable, sending a spicy text can be a great way to connect with your partner before meeting up IRL. Whether you hit them with a sultry selfie and a message about what you're going to do to them later or list all the reasons you love them, dropping some love in your boo's inbox can be a great way to start the holiday.
Here's the V-Day text your partner will love, based on their zodiac sign.