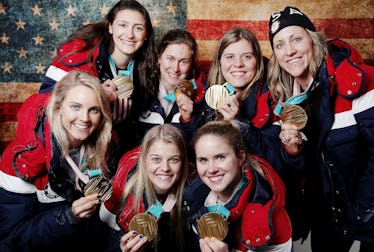 The Women's Hockey Team's Gold Medal Was Just A Step Towards A Bigger Goal For Girls
Marianna Massey/Getty Images Sport/Getty Images
On Feb. 22, the U.S. women's hockey team won the gold medal in a final game against their rival, Canada, in a ridiculously dramatic game. With a tied score after an overtime, the game went to a shootout... and then to a sudden death shootout after the first one ended in a tie as well. Jocelyne Lamoureux-Davidson used her signature shot — which she calls the "Oops I Did It Again" — to score, and then it came down to 20-year-old goalie Maddie Rooney to stop the Canadian's rebuttal. After she confidently blocked that goal, her teammates leaped over the boards and landed in a jubilant dogpile. It was the first gold medal for the U.S. women's hockey team in 20 years.
"It was such a good atmosphere in the arena and on the bench with our team, we were all so excited. We had complete faith in Maddie, and we knew that she was going to save it, so once she did, it was incredible and, honestly, indescribable," Cayla Barnes tells me. I caught up with her, Amanda Kessel, Emily Pfalzer, Rooney, and Lamoureux-Davidson in New York following the close of the Olympics.
While many athletes head to the Olympics with a single goal in mind — to win the gold medal — winning that game was just one part of a much larger goal for these hockey players.
"To be able to score that goal in that moment for our team and our program — for women's hockey and women's sports — just means the world," Lamoureux-Davidson says. "I'm looking forward to the impact that this team is gonna have on the next generation."
The gold medal game at PyeongChang came about 11 months after the women's national hockey team threatened to boycott the world championship tournament as part of their fight for gender equality. That fight wasn't only for better wages and resources for the players themselves; it looked beyond to the future. The athletes wanted USA Hockey to establish the infrastructure necessary for women's hockey to grow, starting with programs for young girls — the kind of support men's hockey has long had. USA Hockey and the women's team agreed to a deal that would support women's hockey by supporting the lower age level of the sport and by making it a tenable career for the grown women. The athletes are also hoping for a combination of the National Women's Hockey League and the Canadian Women's Hockey League to compete regularly, like in the men's NHL.
"It was a huge battle that we fought, and something that I'm very proud of our team for doing," forward Kessel tells me. "I think from here it's just using this platform — and winning obviously helps — to inspire the next generation of little girls."
Many of the players on the 2018 team had been inspired to pick up hockey by the U.S. women's team win in 1998. According to Lifetime, USA Hockey female registration increased by 50 percent in the two years following that win. By the 2016-17 season, female registration had nearly tripled. This year's team was very open about their desire to win to inspire the next generation of hockey players themselves.
So far, it seems to be working — at least, anecdotally. They've been meeting a ton of girls excited about hockey since they've been back in the States, the players tell me. "Parents tell us, 'Oh, my daughter wants to skate now,' or, 'My daughter wants to play.' We even had someone tell us today that their daughters are going for their first skating lessons tomorrow. Just hearing that is really exciting," Pfalzer says.
The players say the reaction they've been getting in the U.S. since winning the gold has been "overwhelming" and "humbling." Ultimately, that support is all coming from the fight they put up — both on and off the ice — together, with the kind of teammate camaraderie great sports movies are made of.
"I've taken a good amount of breakaways against Maddie [Rooney]; I know how good she is. I wouldn't want to be going against her, so I had faith in that," Kessel says with a smile, thinking back to the team's winning moment.
"I felt like the hockey gods were on our side that game, you could say," Rooney says about how she felt waiting to make the save that would win them the gold. "I had confidence in my teammates, locker room energy was good, they just had the most support in me, so it made it easier to be confident back there."
Now, America will get to see how that confidence ricochets across the continent for girls and women in the sport.