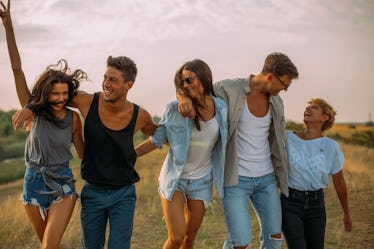 The People In Your Hometown Clique Can Be Explained By These 8 Personalities
Your hometown friends are the OG people you've had in your life since before you can remember. Your childhood and home life are filled with so many memories of them. Basically, your hometown wouldn't technically be "home" without this awesome crew of humans. So, who exactly are these dynamic folks? Not everyone's hometown is the same, but the types of people in your hometown friend group can definitely be categorized.
Just think about all of the high school scenarios depicted in your favorite 90s movies. There was always a prototype to the friend group, and each character brought a noteworthy personality trait to the story. If you've ever seen the movie American Pie, you could totally relate to having a Stifler or a couple like Kevin and Vicky in your pack.
Your hometown crew is your first experience with close bonds outside of family. They're so important to you, and because you've spent a lot of time with them, you can describe every single one of them to a T. I know I'm not a key member of your hometown squad, but your friends likely fall into any of these eight personality types, so I feel like I already know them.