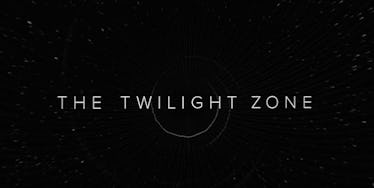 The 'Twilight Zone' Reboot Teaser Transports You To A Different Dimension in 25 Seconds
CBS All Access/YouTube
"You're traveling through another dimension. A dimension not only of sight and sound, but of mind. A journey into a wondrous land whose boundaries are that of imagination. That's the signpost up ahead — your next stop, the Twilight Zone!" If that famous opening monologue gives you chills, you're in for some exciting news. The Twilight Zone reboot teaser has arrived, and the creepy throwback clip also announces the upcoming show's host. Ladies and gentlemen, the classic sci-fi anthology has found its perfect narrator: Jordan Peele.
"Rod Serling was an uncompromising visionary who not only shed light on social issues of his time, but prophesied issues of ours," Peele said. "I'm honored to carry on his legacy to a new generation of audiences as the gatekeeper of The Twilight Zone."
The Twilight Zone is scheduled to kick off production this fall and is set to debut on CBS All Access in 2019. Peele also serves as Executive Producer on the project. The multi-hyphenate comedian's voice can be heard in the recently-released teaser confirming his hosting gig. Of course, The Twilight Zone's iconic eerie score and trippy black-and-white imagery is used in the clip, harkoning back to the original version Rod Serling brought to life when it premiered back in 1959.
Jordan Peele became a creative force to be reckoned with in the horror space thanks to his groundbreaking and award winning 2017 directorial debut Get Out. The comedian picked up an Oscar for Best Original Screenplay for the project and scored nominations for Best Director and Best Picture. Prior to that cinematic breakthrough, Peele was perhaps best known for his critically acclaimed Comedy Central sketch series Key & Peele, which he co-created, starred, and produced alongside Keegan Michael-Kay.
Peele is currently working on his Get Out follow-up, Us. The "original and provocative thriller" is slated to hit theaters March 15, 2019 and stars Elisabeth Moss, Lupita N'yongo, Winston Duke, and Duke Nicholson.
"It's true to what Jordan wants to make, which are these thought-provoking popcorn movies," Moss teased to IndieWire about the high anticipated flick.
Jordan has expressed interested in continuing to work within the horror genre as his career moves forward. The writer/director/producer/actor explained to to Business Insider in February of 2017:
The best and scariest monsters in the world are human beings and what we are capable of especially when we get together. I've been working on these premises about these different social demons, these innately human monsters that are woven into the fabric of how we think and how we interact, and each one of my movies is going to be about a different one of these social demons.
Jordan and his production company also signed a first-look TV deal with Amazon Studios in June of 2018. The entertainment giant already picked up his upcoming drama The Hunt. He's also producing a four-part docuseries on Lorena Bobbitt called Lorena.
Jordan Peele obviously has a lot on his plate on the moment, but fans of The Twilight Zone are sure to be pleased with his involvement in the revival of the legendary television show. Not familiar with the spooky anthology? You can the stream episodes of the series on CBS All Access right now. Pro tip: Watch "The Hitch-Hiker" with the lights ON.