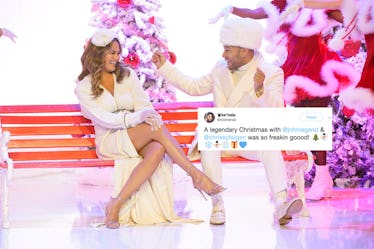 Twitter Was Blown Away By John Legend & Chrissy Teigen's Love On 'A Legendary Christmas'
NBC/Twitter
People were not ready to see the most precious TV special on the planet when John Legend and Chrissy Teigen's A Legendary Christmas Special aired on Nov. 28. They weren't ready, and they still aren't ready!! The special starred Chrissy Teigen, John Legend, Luna, and Miles as they planned the perfect Christmas party for all of their friends and family. It was shot and produced like a classic sitcom, and Twitter didn't know how much it needed a Teigen/Legend sitcom until this special. The tweets about A Legendary Christmas Special prove even more that Chrissy Teigen and John Legend are a national treasure and we must protect them at all costs.
The special was set up as a sitcom and basically one giant music video for Legend's new Christmas album, also titled A Legendary Christmas. Between the scripted scenes and shorts were music performances of the songs from Legend's new Christmas album, and it was truly a magical hour of television.
Between all of the celebrity cameos — like Kris Jenner, Kim Kardashian, Queer Eye's Fab Five, and Stevie Wonder, just to name a few — hilarious bits of trolling between Teigen and Legend, and yes, even an Arthur meme reference (!!), this is one Christmas special the internet is particularly glad it didn't miss.
Twitter is in love with Chrissy Teigen and John Legend even more after watching it.
They especially can't get over Teigen's dream scenario during which she auditioned for The Voice in her PJs.
She went on the actual Voice stage where she auditioned in front of Kelly Clarkson, Adam Levine, Blake Shelton, and yes, John Legend (who will be appearing on the upcoming season of The Voice as a judge).
She got them all to turn their chairs by trolling the men and complimenting Clarkson, as was her right.
"This is the WORST," Teigen screamed into her mic. Then, refusing to sing, she decided to troll the judges instead, and it was the Chrissy Teigen content you love to see.
It turns out Teigen didn't love filming it all that much, but it was still everything.
"Already cringing at the @NBCTheVoice scene of #alegendarychristmas," she tweeted during the special. "I don't know how ANYONE gets up on that stage it was TERRIFYING and I won't do it again for anything, anything."
Twitter sure did love it, though.
Another fan-favorite moment was when Legend acted out the Arthur meme.
More than anything, the special reminded people of why they love Chrissy Teigen and John Legend so much.
Fans truly weren't ready for the holiday magic they watched last night.
Teigen posted about the filming of the special on Instagram earlier in November, giving us the cutest shot of her, Legend, Luna, and Miles.
"That's a wrap on our @NBC Christmas special!!! holy holy I can't wait for you guys to see this," she said in the caption. "Thank you to all of our special guests - our friends, our family, the endless work from team legend - we love you guys. I think the word is blessed?? We are blessed."
No, Chrissy, we are the ones who are #blessed. *Sobs in the key of "Bring Me Love"*.