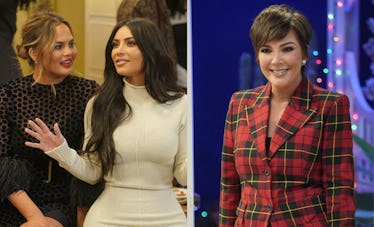 Kim K & Kris Jenner's Cameos On The 'A Legendary Christmas' Special Were So Hilarious
NBC
Chrissy Teigen and John Legend's Christmas special, A Legendary Christmas, has come and gone, and it was truly, madly, deeply, a delight. The whole special was packed with sweet, hilarious, and heartwarming moments featuring Teigen, Legend, and their friends and family, but one of the best parts of the whole special was all of the celebrity cameos. And let me tell ya, there were a lot of celebrity cameos — least of which were from the Kardashians! The Kardashian cameos on the A Legendary Christmas Special were short and sweet and hilarious, and honestly, I'm genuinely surprised at how well Kris Jenner does with scripted lines.
The momager herself is one of the special's early cameos. She comes into the kitchen as Chrissy Teigen is panicking to finish prepping for the Christmas party she and Legend are hosting. The special milked all of the Kris Jenner jokes they could get by having her try to sign Teigen as a client and make some income off of Teigen's Headband of the Day Instagram stories from this past summer.
"Yoohoo! It's your fairy god momager!" Mama Kris quips as she walks into the kitchen. Then she breaks out all of the headbands (and spells Chrissy with a K on the merchandise, of course, because "everything is better spelled with a K"). Then in a truly Mary Poppins moment, Jenner pulls out a giant (and I mean giant) contract for Teigen to sign saying she will have to officially become Teigen's mother and her pay cut will be 45 percent. (That's her trolling the fact that she gets 10 percent of whatever her daughters make as their manager.)
Hereeeeee's Kris!
And here she is digging in her Mary Poppins bag for that contract.
And here's Kim!
Good ol' Kim Kardashian is a hell of a lot more awkward in her scene than Kris Jenner was in hers, but Teigen is there to guide her through with the humor, so all's well.
One of Teigen and Legend's cousins comes up to Teigen and Kardashian to pitch his business ideas to them. His best idea is a makeup line... but for men... and then he starts pitching things like "manscara." Bruh, all makeup is already unisex. Even Kardashian made that point and said that her lip liner is unisex. But OK!
She also reveals in the scene that she has "something in the works" when it comes to unisex products. Now, I don't know if that means she's releasing a makeup line branded for men (men, you can already use her makeup if you want! It's literally unisex if you just use it!) or something else. But it could've been a comment about her KKW Body III fragrance, which is the first unisex fragrance from her brand.
The scene ended with Teigen pretending Kardashian was sick so they could get away from the conversation. Classic move.
That's all of the Kardashian family cameos we got from A Legendary Christmas, but don't you worry your pretty little Kardashian-loving heads. There are plenty of other stars in this special to entertain you to your heart's desire.
For example, little Luna FaceTimed Queer Eye's Fab Five and Keenan Thompson with the help of her grandma, Pepper. Retta from Parks & Rec sang opera while Derek Hough danced. Zach Galifianakis arrived dressed as Santa. And Stevie Wonder even came in to play the harmonica. It was a magical special filled with all that 10-out-of-10 holiday joy.
But let's not forget that the best parts of the special were when Legend and Teigen were trolling each other mercilessly. There was one part where Teigen took a nap and dreamed that she won The Voice by trolling all of the judges. Yes, they filmed this on the real set of The Voice, and yes, Legend, Kelly Clarkson, Adam Levine, and Blake Shelton were all in the judges' chairs.
Let's hear it for the internets' most favorite couple both becoming TV stars!!
Merry Christmas, y'all.