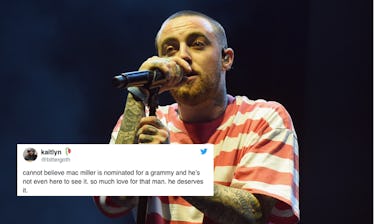 Mac Miller Just Got Nominated For A Grammy Award Posthumously, So Fans Are Emotional
Kevin Winter/Getty Images Entertainment/Getty Images
A sad but beautiful update to the late rapper Mac Miller's music: On Friday, Dec. 7, Mac Miller's album, Swimming, was nominated for Best Rap Album at the 61st Annual Grammy Awards. The album was released in August, one month before Miller's death at age 26, and his nomination comes exactly three months after it. Fans of Miller are incredibly emotional, and these tweets about Mac Miller's posthumous Grammy nomination show just how much he is missed.
This is Miller's first-ever Grammy nomination, and Swimming will be up against Cardi B's Invasion of Privacy, Nipsey Hussle's Victory Lap, Pusha T's Daytona, and Travis Scott's Astroworld. Miller's album initially rose to number three on the Billboard charts when it was released in August, and returned back to the top 10 after news broke that Miller had died on Friday, Sept. 7, of an apparent overdose.
"Malcolm McCormick known and adored by fans as Mac Miller, has tragically passed away at the age of 26," the rapper's family told TMZ. "He was a bright light in this world for his family, friends and fans. Thank you for your prayers."
His death was a difficult pill to swallow for his fans and, after his nomination was announced, Twitter was flooded with heartfelt sentiments from those who were inspired by the rapper and his music:
It's been an incredibly emotional few months for fans of Mac Miller, and his death sent a shockwave throughout the entire music industry. Miller (whose real name was Malcolm McCormick) was adored by many, including dozens of artists who paid tribute to the rapper by performing at the Mac Miller: A Celebration Of Life concert in Los Angeles on Oct. 31.
While his ex-girlfriend, Ariana Grande, was seemingly not in attendance, the lineup for the concert had beyond-talented artists to celebrate Miller's life:
In a press release about the concert, Miller's mother, Karen Meyers, said,
The support we've experienced is evident in this amazing lineup and is a testament to Malcolm's incredible life. His Father, brother, and I are beyond thankful to everyone who is working to make this concert happen along with every fan and every friend for continuing to support Malcolm and his vision. He was a caring, loving human with a smile that could light up the sky and a soul that was out to make the world a kinder place and the MMCF will continue to do just that.
Days after his death, Ariana Grande took to Instagram to share a heartbreaking message, writing:
i'm so mad, i'm so sad i don't know what to do. you were my dearest friend. for so long. above anything else. i'm so sorry i couldn't fix of take your pain away. i really wanted to. the kindest, sweetest soul with demons he never deserved. i hope you're okay now. rest.
While Miller's death is still unbelievably tragic, it's incredibly heartwarming to know that his work and his talents have not gone unnoticed, and that he will never be forgotten.