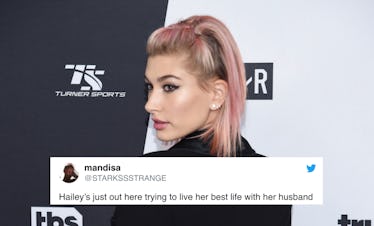 Twitter's Reaction To Hailey Baldwin's Post About Bullying Shows The Internet Can Be Good
https://twitter.com/STARKSSSTRANGE/status/1071513860077699075
You might be thinking Hailey Baldwin is busy living on cloud nine ever since her marriage to Justin Bieber... somewhere blissfully unaware of the haters and trolls out here on the internet. Alas, no one is ever truly immune to other people's cruel words, including (and sometimes especially) celebrities. The young model recently jumped on Instagram to send out a powerful message about the repercussions of negative words and energy and how it's affected her own personal mental health. Now, the tweets about Hailey Baldwin's online bullying message show how the internet can be good sometimes, too.
Hailey Baldwin (or, should I say, Hailey Rhode Bieber, which she now goes by on Instagram) is currently active on social media. However, she's admitted to taking long breaks like many other celebrities to clear her mind and attempt to cancel out some of the noise that comes with being online. On Saturday, Dec. 8, she shared a powerful message on her Instagram stories about what those breaks do for her. In it, she explained, "Being off of Instagram is the best thing ever. Whenever I take breaks from it, I feel so much better, so much happy as a person. The second I come back on I get immediate anxiety, I get sad and I get worked up."
Baldwin also told her followers to not get her wrong, adding that Instagram is an "incredible" tool to stay in touch with people. However, to her, the negativity can be "so loud." She said, "It's hard to focus on your well being and mental health when someone is tearing apart your job, or your relationship, or essentially any of the things in your life that are positive."
She continued explaining that in her mind there must be a greater purpose to life than simply obsessing over other individuals and weighing in on situations that have nothing to do with you. She added,
We need to take a step back and realize we need to express more love and encouragement to one another instead of constantly tearing people down and judging... And I won't let people make me feel like I'm doing something wrong by enjoying my life and being happy.
Baldwin ended her post with the powerful statement: "This world has enough hatred, hurt and pain as it is, the last thing we need is more negativity, hate, and division."
Preach, girl.
Thankfully, Baldwin's powerful stories poked Twitter and garnered positive support.
Of course, Baldwin and her hubby Bieber have been under an increasingly bright spotlight ever since they picked up dating in summer 2018. Now that they're married, not only do they have to navigate the usual trolling that comes with being public figures, but they have to multiply the hate by two to shoulder their partner's experience, also. Actually, that hate can be multiplied exponentially, since Jailey even has to deal with hate from fans of Selena Gomez that don't approve of the fact that Justin Bieber ended up with someone other than Gomez.
Some fans started a much-needed discussion about how ship wars between Jailey and Jelena fans contribute to intense online bullying.
What if we all make a 2019 New Year's resolution to be kind to one another and, when in doubt, simply pause, eat a snack, and then get back to whatever we were doing? Just a thought.