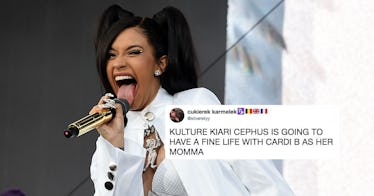 The Tweets About Cardi B Giving Birth Prove Fans Are So Excited For Momma Cardi
Kevin Winter/Getty Images
CARDI B IS A MOM! I REPEAT, CARDI B IS A MOM! The rapper delivered her little girl on July 10 and announced it on Instagram on July 11 with the most gorgeous pregnancy photo, so huge congratulations are in order! The baby is Kulture Kiari Cephus, and the tweets about Cardi B giving birth are currently blowing up my feed, proving that the world is just so excited to have another cool mama in the mix. Can you even imagine the cute new sound effects the "Be Careful" singer is going to invent now that she has a daughter to chat up every day? I am so ready for her weird but somehow still totally awesome twist on baby talk, because I just know she will have one!
Cardi revealed the baby was a girl during an interview with Howard Stern on May 9. "I'm having a girl," she said, adding that her fiancé, Migos rapper Offset, is in charge of picking out the name. The singer first shared the exciting news that she and Offset were expecting a baby together while appearing as the musical guest on Saturday Night Live back early in April. She took the stage near the beginning of the show to perform a mash-up of "Bodak Yellow" and "Bartier Cardi" in a dress that concealed her stomach. Then during her second performance — of her new hit song "Be Careful" — the camera slowly pulled back to reveal Cardi's beautiful baby bump in a fitted white dress.
What a moment! Social media exploded after that big reveal, because of course it did, and now the Twitterverse is at it again, wasting no time showing Bardi all the love.
Awww! I am so excited to see Cardi as a mom, and I can't wait to see all the pics of her and her daughter out on the town. Can you even imagine the wardrobe that kid is gonna have? Or the way Cardi is gonna trick out that lucky baby's nursery and carriage?
Of course, the transition to motherhood isn't always an easy one, and Cardi stopped by iHeartMedia's The Breakfast Club show on April 10 to talk about just that, saying she is more than ready to rise to the occasion. "I'm a grown woman, I'm 25 years old, I'm a schmillionaire," she said. "I'm prepared for this."
YAS, mama!
As for all the haters who try to tell her she won't be able to balance her skyrocketing career with her growing family? Cardi has no time for any of them. "It just really bothers me and it disgusts me," she said. "I see a lot of women online like, 'Oh, I feel sorry for you. Oh, your life is over.' It's like, why can't I have both? Why do I have to choose between a career and a baby? I want both."
Tell 'em, girl!
"I don't want to wait until I'm 30-something to have a kid," she continued. "I want my kid now, now that I have energy. A lot of people were telling me, 'What are you doing? What are you doing?' And I'm like, 'OK, I'm pregnant, but I have a game plan.'"
That game plan does not, she told Howard Stern, include throwing a wedding (since — as we all know — she was married this whole time). "I'm not having a wedding pregnant," she said. "I wanna have my dream dress, and I wanna get drunk at my wedding, and I wanna go on my honeymoon and be drunk for a whole week. Like, every day."
I feel you, Cardi! Better start getting that whole pumping and dumping thing down now, though! And in the meantime, how about posting some pics of your sweet little mini-me, okurr?