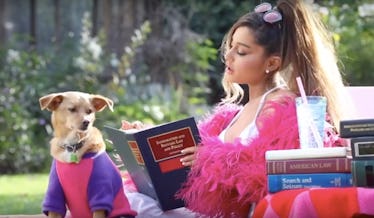 Twitter Is Freaking Out Over Ariana Grande Wearing A Wedding Dress In The "Thank U, Next" Teaser
YouTube
ATTENTION, PLEASE. This is very important news that I need to announce, and I need all eyes and ears on me. We just got a behind-the-scenes sneak peek at Ariana Grande's "Thank U, Next" music video (you know, the one where she recreates all of our favorite rom-com movies), and there's a lil' something extra included in the preview. Are you sitting down? Because it's Ariana in a wedding dress. I REPEAT, ARIANA IN A WEDDING DRESS. And honestly, the tweets about Ariana Grande in a wedding dress explain precisely how I feel.
Just a few short days ago, Grande first dropped a teaser trailer of the "Thank U, Next" music video on her Instagram and Twitter, and we got a pretty good idea of what to expect when the real thing finally drops. But, because Ariana Grande is good and pure and full of love, she decided to give us yet another little gem. The video starts out in a very Elle Woods way a là Legally Blonde, and we see snippets of what appear to be Mean Girls, Bring It On, and 13 Going On 30, all within the first 30 seconds. But the REAL excitement comes around the 2:30 mark, where we see Grande, with her back facing us, in a damn wedding dress and veil, surrounded by what appears to be bridesmaids. It lasts for about all of 4 seconds, then cuts to more behind-the-scenes footage.
But let me tell you: those 4 seconds? THEY. ARE. PERFECTION.
Check out the video below if you feel like freaking the eff out (which, of course, you do):
CAN YOU EVEN BELIEVE? Because I can hardly believe. This is monumental. This is transcendental. This is what life is supposed to be about, people!
Of course, fans of Ari immediately took to Twitter to show that they're totally feeling the ~lewk~ (because it's Ariana freaking Grande in a wedding dress), but also because this just makes the wait for "Thank U, Next" even more exciting:
One Twitter user said what we're basically all thinking, and that is "this video is going to make me sob, right?":
I simply cannot right now. Ariana, we are not worthy.
Our girl has been sending us massive hints about this music video, but nowhere — and I mean NOWHERE — did I see anything about a damn wedding dress, so I'm thinking she hid that little nugget of information so we can all freak out accordingly when we saw this new sneak peek.
On the morning of Nov. 29, Grande did let her fans know that she was going to release a little something to "hold them over" until the video's release on Nov. 30.
Shortly after, she took to Twitter once more to tell fans that they'd only get a small sampling of the video, so as not to ruin the magic. She wrote,
we're not going to put all of the set ups in the sneak peek tho because we don't want to spoil everything... so just a taste
Fine by me, girl! I will absolutely take a seconds-long clip of you in a wedding dress over pretty much anything else.
Now, all we have to do is patiently wait for the full video to be released. Wish me luck on the whole "patient" part.