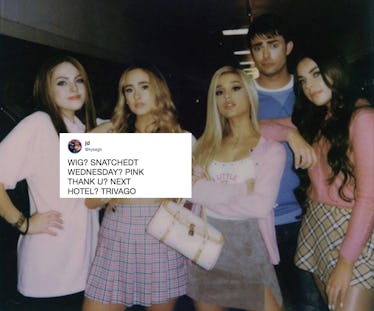 Ariana Grande Dropped A "Thank U, Next" Video Teaser That's Totally Making Fetch Happen
Ariana Grande on Instagram/Twitter
How do I even begin to explain Ariana Grande? Well, one time she released a music video teaser that's basically a shot-for-shot Mean Girls reboot. It was awesome. No, seriously, Ariana Grande's "Thank U, Next" music video teaser is here and it's the Mean Girls tribute millennials didn't know they needed. She gives us movie quotes. She gives us Aaron Samuels. She gives us the woman who said Regina George punched her in the face. It's literally everything, and then you remember that Mean Girls is just one of the reported movies the "Thank U, Next" music video pays tribute to.
Grande dropped the teaser trailer on her Instagram and Twitter around 1 a.m. on Tuesday, Nov. 27, and it's packed with celebrity cameos, and cameos from Grande's friends, all of them doing their part to recreate the "How Do I Even Begin To Explain Regina George" montage from Mean Girls. Even Troye Sivan is there!!
The teaser starts out with Colleen Ballinger, aka the Miranda of Miranda Sings (an icon in her own right), saying, "One time on Twitter, I heard Ariana was pregnant, so I got pregnant so we could be pregnant at the same time. Turns out it was just a rumor." (She's pregnant IRL, so this is perfect.)
Then Aaron Samuels himself, aka actor Jonathan Bennett, pops up and says, "Ariana Grande told me my hair looked sexy pushed back. She's not wrong." No, Jonathan, she is not wrong.
Then Stefanie Drummond (you know, the woman who played the girl who said Regina George punched her in the face once) graciously appears and says, "Ariana broke off an engagement, so I found a guy to propose to me, and I broke off an engagement." And thus, the first Pete Davidson reference has arrived.
SOAK THIS IN IN ALL ITS EARLY 2000S GLORY.
Hello, Troye Sivan!! The Australian pop angel (who Grande recently collaborated with on "Dance To This") pops in and says, "I heard she's a lesbian now and dating some chick called Aubrey. It's f*ckin' sick."
The last two rumors about Grande (who really seems to be trying to get that whole one-name pop star thing started in this video) say are the most hilarious. "I heard if you record her snoring and play it backwards," one person says, "it sounds like Fantasia." That's my favorite line in the whole damn video.
The last rumor goes, "Ariana says 'Honest to god, knock me out,' so I decided to punch myself in the face. It was awesome."
Fans on Twitter are freaking out over this teaser.
And remember, Mean Girls is only one of FOUR iconic movies Grande is reportedly paying tribute to in the "Thank U, Next" music video!! Only one of four, people!!
Grande has been slowly revealing the movies she's recreating for the video on her social media.
The first teaser came on Nov. 21 when she posted a photo of her working out like Elle Woods in Legally Blonde.
Then she made us want a hot dog real bad.
And then came the next movie: Bring It On. Oh lordt.
Then came Mean Girls. You've let it out, honey. Put it in the book.
Then she was a big-time magazine editor Jenna Rink from 13 Going On 30.
So, just so we're all clear, the video is apparently going to pay homage to Mean Girls, Legally Blonde, 13 Going On 30, and Bring It On. No amount of preparation will be enough for this.
Grande, unfortunately, didn't tease the exact date of the release of the "Thank U, Next" music video. The teaser just said "Coming Soon," but knowing Grande, she could literally drop it on Twitter in 20 minutes just because she feels like it. I. AM NOT. READY. FOR THIS. VIDEO.