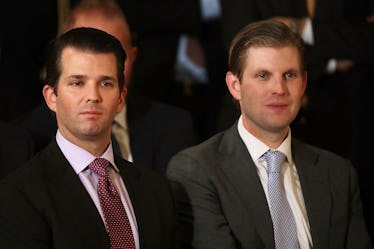 The Trump Sons' Trip To Dubai Is Costing Americans Thousands, So That's Nice
Chip Somodevilla/Getty Images News/Getty Images
Did you recently fly out of the country for a garish wedding in the United Arab Emirates (UAE) with a taxpayer-funded security detail? If you did, you might be one of President Donald Trump's two eldest sons. A new report from CBS News found that the Trump sons' trip to Dubai cost Americans thousands, according to CBS News. So that's nice.
The CBS News team viewed government purchase orders for Eric and Donald Trump Jr.'s trip from March 26 to April 8 that suggest the duo's trip to Dubai allegedly cost $73,000 in security costs — at minimum. The records showed that those costs are related to U.S. Secret Service agents' hotel stays and a car service, per CBS.
"The Secret Service is conducting a protective operation in the UAE," said Secret Service spokesperson Mason Brayman in a statement to CBS News. "As a matter of practice we do not comment on the specifics of protectee's trips." The Trump Organization did not immediately respond to Elite Daily's request for comment on the subject.
The Trumps' trip to Dubai was reportedly not to do with government work, but rather a business-related social event for real estate developer Hussain Sajwani's daughter's wedding. CNN reported that Sajwani has been nicknamed "The Donald of Dubai," and that the wedding celebrations for his daughter, Amira, took place over several days. Amira works for her developer father at DAMAC properties, as the chief finance officer, per CNN, similar to the working relationship between President Trump and his daughter, Ivanka.
Sajwani took to Twitter on Friday, April 6, to thank the Trumps for attending. "Yesterday I was delighted to host my dear friends and partners, Donald Jr. and Eric Trump, on a very special occasion for my family, where we were celebrating the wedding of my daughter Amira," he said in a tweet automatically translated from Arabic by Twitter.
President Trump and Sajwani have worked on two golf course projects together: Trump International Golf Club at Akoya, which opened in 2017, and Trump World Golf Club Dubai, designed by Tiger Woods, which is set to open later this year. Eric and Donald Jr. took over the Trump Organization in January 2017 once their father was sworn in as president.
While Trump was campaigning on anti-Muslim sentiments, his and Sajwani's relationship made headlines and struck some people as peculiar. That apparently prompted Sajwani to defend Trump to CNNMoney shortly after the election.
"He had a strong brand — and no question in the last 12 months, his brand became stronger and more global," he told CNNMoney. "I think it will have a positive impact on sales ... He's in no way discriminative. He doesn't discriminate against sex, religion or anything else."
The Trumps' recent business trip to Dubai is hardly the first exorbitant security-related cost to taxpayers since President Trump took office. There was first lady Melania Trump's reported 21 flights in a three-month period before moving into the White House in April 2017, according to The Wall Street Journal, which cost more than $675,000. Then, there was the Trump family's 2017 skiing vacation in Aspen, Colorado that reportedly cost upwards of $300,000 between the hotel booking and ski rentals. And that's all on top of the $127,000-$146,000 a day the NYPD estimated it cost to secure Trump Tower while Melania Trump and her son, Barron lived there without Donald Trump — as they did for the first four months of his presidency.
Not to mention, President Trump himself is reported to have spent more than $13 million on travel during his first year in office, per Judicial Watch, a right-leaning nonprofit watchdog.
As compared to 2017, CBS reported, the Trump sons' travel has slightly decreased. So far this year, the only other international travel for the brothers has been Donald Jr.'s trip to India in late February.
On Twitter, people vented about the Trump sons' latest spending of taxpayer dollars.
Though it's admittedly a challenge to keep up with the Trump family's travel costs — both governmental and personal — the latest headlines incited a reaction from Twitter users who were irritated.
It's not the first time, and it probably won't be the last time the Trump children cost the taxpayers thousands of dollars for their own personal travel.