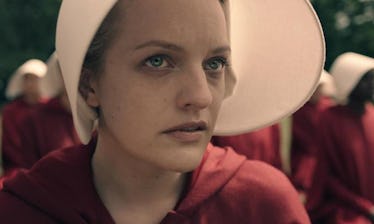 'The Handmaid's Tale' Released Its Season 2 Trailer & It Is Seriously Chilling
Hulu
Attention television bingers, our prayers have been answered. Since the climatic Season 1 finale of Hulu phenomenon The Handmaid's Tale, we've been left in endless suspense wondering what is next to come. Luckily Hulu has finally given us a taste of what to expect, because the Season 2 trailer of The Handmaid's Tale is out, and holy moly are we in for a ride.
Hulu released the one-minute and 17-second trailer on Jan. 14, and, as if the clips weren't enough to send a chill down your spine, an extremely eerie rendition of Buffalo Springfield's 1967 hit "For What It's Worth" plays softly in the background. The lyrics include "there's a man with a gun over there/telling me I got to beware." Fitting, very fitting.
The second season of the dystopian story is set to premiere April 25. Hello, consider our calendars marked.
Season 1 of The Handmaid's Tale left us wondering the fate of main character Offred, pregnant and captured by authorities, while Moira managed to escape into Canada. Despite only being a little over a minute long, the trailer did give us a peek into what to expect for the show's characters, including flashbacks of Offred's family, Moira in tears, and the brutal living conditions of The Colonies. Great to see the Gilead world is as creepy and oppressive as ever.
The 13-episode season will reportedly center around Offred's pregnancy, a dark topic considering the world this baby will be born into. Moss, who plays Offred, discussed season two's theme of motherhood in further detail, according toVariety. Moss said,
So much of this season is about motherhood. We've talked a lot about the impending birth of the child that's growing inside of her as a bit of a ticking time bomb, The complications are really wonderful to explore. She does have the baby, but it gets taken away from her. She can't be its mother. It makes for good drama.
"Good drama." Understatement of the century.
Based on Margaret Atwood's dystopian novel, it's easy to wonder if Season 2 of The Handmaid's Tale will begin taking a life of its own, possibly straying from the novel's original storyline. A few changes are expected to be made for the upcoming season, including the addition of Marisa Tomei as a guest star. However, Executive Producer Bruce Miller assured the Television Critics Association that the storyline won't stray too much from the original, according to Entertainment Weekly.
"I certainly don't think we're going beyond the story that Margaret Atwood was telling," Miller said. "She's very much the mother of the series."
Season 1 of The Handmaid's Tale proved to be a roaring success during this year's awards season. In September, the Hulu original picked up a whopping eight Emmy wins, including "Outstanding Drama Series." The show also won two Golden Globes in January, including the prestigious "Best TV Series, Drama" — not an easy feat since the show was going up against the likes of Game of Thrones, Stranger Things, The Crown, and This is Us. Talk about a stacked category.
It's a good thing we have the upcoming season of The Handmaid's Tale to look forward too, since some of our other faves are going to be a much longer wait. Since reports surfaced that Season 8 of fantasy drama Game of Thrones wouldn't premiere until 2019, fans are in a panic. HBO boss Casey Bloys explained to Entertainment Weekly on Jan. 11 that the 2019 premiere date is in order to achieve the highest possible quality for the television series, citing showrunners David Benioff and Dan Weiss as "perfectionists." Bloys said,
Here's what I'll tell you: They take the time they need to do the show at its highest level of quality. As the show has gone on, it's gotten bigger — big battle scenes, big special effects. These things take time. Here's the one thing I can assure you: Dan and Dave were not sitting around on a beach waiting to go back to work. They're perfectionists and this is the soonest it can come back at a level of quality that they are comfortable with.
Better enjoy the outdoors while we can, because we won't be getting off the couch once these premieres drop.