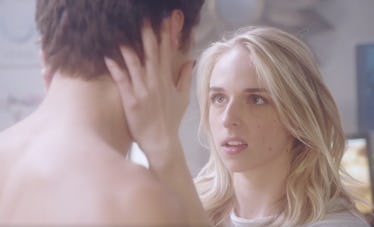 The Trailer For 'Foursome' Season 4 Will Transport You Back To High School – EXCLUSIVE
AwesomenessTV
Reaching the end of high school is both an exciting and nerve-wracking time, and nothing encapsulates the true zaniness of that better than the new season of the Youtube Original Series Foursome, produced by AwesomenessTV. Throughout the first three seasons of the streaming romantic comedy series, Andie Fixler has had her group of friends — her Foursome — to help her through the awkward world of dating in high school, but in Season 4, her Foursome will have graduated and left her behind. Elite Daily has your exclusive look at the Foursome Season 4 trailer, which will shake things up with a new Foursome, a balls-to-the-walls bucket list, and some new... ummm... kinks in Andie's sex life.
As the new trailer reveals, the biggest change to Season 4 of Foursome is, well, there will be a completely new Foursome! With Andie Fixler's (Jenn McAllister) previous friend group about to go off to college, she reunites with her original Foursome from middle school, and they agree to make the most of their summer by completing the Hot M.E.S. (Most Epic Summer) list that they made years ago. Except now that they are older, they decide to kick the activities on the list up a notch.
The summer is also important for Andie's relationship with her boyfriend Josh Bennet (Cameron Moulène), which definitely seems to be going through a rough patch in the bedroom department. Things just seem to get more awkward between Andie and Josh as they keep trying and failing to get it on.
Check out the trailer for Foursome Season 4 for yourself below:
Yeah — it definitely looks like this season is going to be packed with more romance, adventure, and zaniness than ever before. In a statement to Elite Daily, Foursome's co-creators Selyna Warren and Marissa Read described the new fourth season as a nostalgic throwback to the '80s, and teased that this will be a pivotal season for Andie and Josh's relationship:
We are so pumped for fans to kick it back to the '80s with our nostalgic fourth season. Our Fansomes will be introduced to the 'OG Foursome', a lovable group of new characters. It's a HOT MESS of a Summer for Andie. She and Josh's relationship melts our popsicle and we think our viewers are gonna be so happy to see what Jandy has in store.
Of course, the other major change that fans will see in this season of Foursome is that Andie's big brother Alec Fixler is no longer around. Played by Logan Paul, one of YouTube's most recognizable names, Alec was a central part of Foursome's main cast for the show's first three seasons. But at the beginning of this year, YouTube announced that Paul would be removed from the show's fourth season in light of a controversial video featuring a dead body Paul uploaded to his personal channel. Paul's character of Alec was completely written out of Season 4, without a replacement actor.
All episodes of Foursome Season 4 will begin streaming on YouTube Originals on Wednesday, Oct. 24.