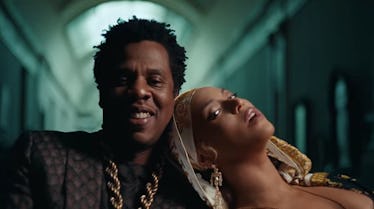 Here's The Name Of Every Song On 'Everything Is Love,' So You Can Listen On Repeat
Roughly 12 hours ago, Beyoncé and JAY-Z released Everything Is Love, their second surprise collaboration this year (the first, of course, is the second installment of their On The Run II tour, which kicked off in early June and will run through October of this year). The first single off the album, "Apesh*t," features everything fans love from the duo, but the Everything Is Love tracklist is loaded with songs that you're going to want to play nonstop all summer long, so get listening ASAP.
Launched in tandem with the news of the surprise new release, the music video for "Apesh*t" takes place is France's famed Lourve museum, and Twitter users were incredibly quick to lose their minds over the fact that the duo not only filmed there, but seemingly shut the Lourve down so that they could have both the museum and the grounds to themselves. Even more shocking? Ahead of the release, not a peep came from either musician's camp. There wasn't even a rumor circling that something might be on the way. For the two to retain that type of worldwide silence, given the fact that they are international celebrities and icons whose moves are catalogued by paparazzi and fan accounts all day long, is absolutely unheard of. But because it's JAY and Bey, it's not at all shocking.
Not a bit.
According to the website for Rolling Stone, the tracklist for Everything Is Love looks as follows:
1. "Summer"
2. "Apes**t"
3. "Boss"
4. "Nice"
5. "713"
6. "Friends"
7. "Heard About Us"
8. "Black Effect"
9. "Lovehappy"
Announced at the couple's London concert on June 14, Beyoncé revealed to the crowd that the album — the third release this year for the couple, following Beyoncé's incredible Lemonade and JAY-Z's thoughtful and provoking 4:44 — was available now while the words "Album Out Now" flashed on the screen in the background of the performers.
The album is currently streaming exclusively on TIDAL, the digital streaming platform that JAY-Z part owns, in conjunction with other artists. Fans of the couple needn't worry if they don't have TIDAL accounts, because you can sign up for upwards of six months of a free TIDAL trial before you'll be prompted and expected to pay the $9.99 per month charge. Elite Daily reached out to a rep for Beyoncé for comment on when (and if) the album will make its way to other digital streaming platforms, but has not yet heard back.
On the track "Nice," Beyoncé doesn't mince words when she talks about her reason not to stream Lemonade, and it's pretty indicative of whether or not they'll put Everything Is Love on Spotify. The singer raps:
Patiently waiting for my demise 'cause my success can't be quantified / If I gave two f*cks about streaming numbers woulda put Lemonade up on Spotify
Lots of fans took that as confirmation that the newest album won't make its way to other streaming devices, but many are still holding out hope that Bey will bless them with an album that'll be available to the masses. (But, to be honest, with a free TIDAL trial subscription with your account, what more could you want? You can stream the new album, play songs again and again and again without having to pay a cent. Where is the problem? I see none.)
Regardless, can you blame JAY and Bey for wanting to keep their music in house, both figuratively and literally? Personally, I can't, and I'm using this as an excuse to budget into my monthly spending an extra $10 for TIDAL. Because this tracklist is one I don't want to be caught sleeping on.