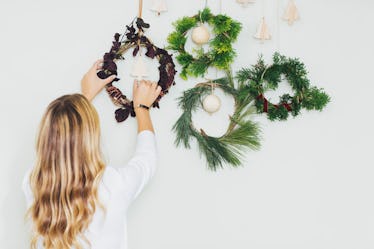 The Top Holiday Decor Trends Have Been Revealed To Make Your Home Merry & Bright
Decorating for the holidays is super exciting. While there are staples for every household, as you get older, you have the opportunity to totally personalize your holiday decor. It can get a little overwhelming, though, so it's always a good idea to look for some inspo before you deck the halls. Luckily, Pinterest does a ton of research, so you don't have to. Here are the top holiday decor ideas for 2018, according to Pinterest.
According to Pinterest, people begin looking for holiday design inspiration as early as July (more than 62 million people, to be exact). And with over 235 million boards focusing on festive planning, Pinterest came up with the biggest trends for this year. They have conveniently filtered their inspiration boards into their Holi-YAY 2018 collection for all of your holiday decor and party planning needs.
From fairy lights to buffalo plaid, here are the things Pinterest thinks you should incorporate into your holiday decor. Happy decorating!
Add a little sparkle to your decor with these whimsical lighting ideas.
Trade in the traditional tree skirt for a trendy tree collar this season.
Marble ornaments will give your Christmas tree a chic touch.
Be a trendsetter and tattoo some ornaments.
Completely DIY your menorah with metallic spray paint.
Go green and wrap your gifts with pretty cloth.
Become the hostess with the mostest with these fun ideas for your dinner table.
Add a little pizzaz to your table settings with leaf place cards.
Your home will be so inviting with these extra holiday touches.