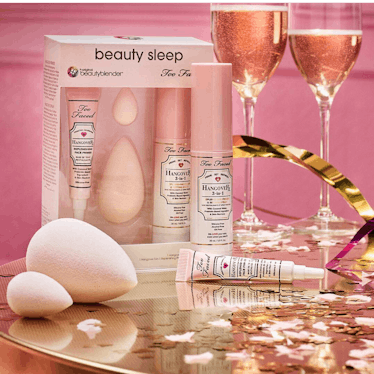 This Too Faced x Beautyblender Hangover Kit Is The Hottest Gift For Your NYE Squad
New Years Eve is coming like Christmas (sorry, couldn't resist) and many of us will be getting our party on. The festivities usually come at the price of a less than stellar complexion the next morning, but luckily for your squad this year, the Too Faced x Beautyblender Beauty Sleep Kit will fix all your skin woes come Jan. 1.
Raise your hand if you've woken up one morning and immediately lamented about having one too many the night before. I recommend you drink with caution, but I'd also be lying if I said I'd never woken up with a few regrets. Drunk texts, sloppy DFMOs, and all other embarrassing actions aside (the list could go on), a big downer to a fun night out is waking up the next morning with skin to match how your head feels. It's no secret that alcohol is not your skin's best friend, but it's also a major part of my social life, so that's not going to stop me from imbibing. Sorry not sorry.
Sundays are usually the day of rest and recovery, unless you partake in Sunday Funday. Or perhaps those workweek happy hour drinks just got away from you a little bit. Perhaps the biggest such time every year is New Years Day — aka the hangover to end all hangovers. This year though, I've brought in backup. Go out and have your fun on New Years Eve, because this Beauty Sleep kit will make it look like you actually got your beauty sleep on Jan. 1. Sign me up, amiright?
Beautyblender x Too Faced Beauty Sleep Set
Beauty Blender X Too Faced, $40, Sephora | Too Faced Primer & Setting Spray, $32, Sephora
This kit has it all — including hangover-helping products from Too Faced and two makeup sponges from Beautyblender. It's a a reminder that the only thing better than a regular ole' beauty set is a multi-brand beauty set that comes in a pretty pink box and helps you deal with your epic hangover. The sky's the limit, really.
Too Faced supplies a travel size bottle of its Hangover 3-in-1 Replenishing Primer & Setting Spray. The spray is a coconut-infused hydrating primer as well as a setting spray, so your foundation doesn't slide off your face with those hangover sweats (I can't be the only one to get those). The travel-sized variety is ideal to carry around in your purse for an easy access spritz, but you can also purchase a full-sized bottle if you know you're gonna need more. And you know you're going to.
Hangover Replenishing Face Primer, $32, Sephora
The kind people over at Too Faced have also include a mini bottle of the Hangover Replenishing Face Primer. This bad boy will do hard work on rough and dull-looking skin, plus smooth under-eye bags and/or circles. It's also available in a larger size if you're having a particularly long week.
Beautyblender, maker of the incomparable make up sponge of the same name, included a full size beautyblender bubble as well as a beautyblender micro.mini bubble. The mini sponge is perfect for those areas that need just a little more precision to conceal. The sponges, as well as the rest of the products and the packaging, are the sweetest shade of pale pink. They'll pair perfectly with your favorite rosé that you've been drinking all night.
Beautyblender first teased the epic collaboration with Too Faced by posting this over-the-top spectacular slumber party pic. If that bedroom really exists, someone please tell me how I can get to sleep in it, or how to DIY my own bedroom to look like that.
If you're on the holiday shopping grind, it's important to note that this set is a limited-edition release. It's available right now at Sephora for $40, but chances are it won't be around forever (luckily, neither will your hangover).
Good luck beating me to this getting this beauty set, because I'm going all out on New Year's Eve, and my hangovers wait for no one.