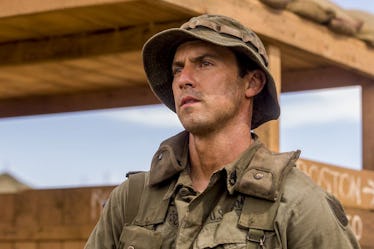 The 'This Is Us' Vietnam Episode Soundtrack Really Brings The Story Home
NBC
It's been a really long time coming, but finally, after two full seasons, This Is Us finally gave viewers the backstory on how and why Jack Pearson went to Vietnam. The episode was a dedicated hour to Jack's past, with no scenes intercut from the 1980s or points beyond. The result was a full-on period piece that began when Jack finds Nicky at his current station overseas and slowly rolling backward to show how he got there. But the best part is the This Is Us Vietnam episode soundtrack, which really pulls the viewer into the era. Warning: Spoilers for This Is Us Season 3 follow.
Nearly all TV shows set in the mid-20th-century era use popular music to help set the tone. (FX's The Americans was notably great at this.) But This Is Us hasn't actually leaned into that to help place where they are in time, instead focusing on costumes and hairstyles to set the tone.
This episode breaks with that. Instead, it uses folk rock from the era all throughout the hour to punctuate the war as Jack experienced it. It also slowly rolls back the dial to the mid-1960s period back home before he and Nicky are shipped out.