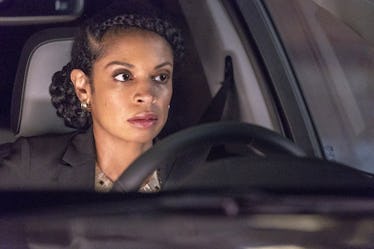 Next Week's 'This Is Us' Episode Trailer Will Make Fans Seriously Worried
NBC
This past week's episode of This Is Us threw fans a massive twist at the end of the hour. With Kevin and Zoe on the hunt for details about Jack's time in Vietnam, a brand new piece of evidence comes to light, one that will make everyone question what they knew about the supposed saint who was their father. According to the This Is Us Season 3 Episode 6 promo, the evidence may be the catalyst for a new emotional phase for everyone in the present day.
The evidence Kevin found is in a photo, one of Jack and a native Vietnamese woman. Is she someone Jack knew personally? In the picture, he's smiling at her, as if he is happy to see her. Is she a girlfriend, or even a war wife he left behind? Or could she be Nicky's girlfriend, someone Jack was coming to regard as part of the family?
The upcoming episode is entitled "Kamsahamnida." The word is not Vietnamese, but Korean (감사합니다), and it translates to a polite way to say "Thank you." Precisely who is thanking who is not clear though,
Here's the synopsis:
Kate struggles with Toby's depression. Randall makes time for Kevin, who obsesses about Jack's past.
And here's the trailer.
The trailer homes in first on Kate and Toby, who took one step forward and two steps back this past week. The good news: Kate is pregnant. The bad news: Toby cracked like an egg when he found out. How long will he be like this, right when Kate needs him most?
Then there's Randall, who looks like he's taking time off from campaigning to listen to Kevin's new discovery. But Randall really needs to be looking after Beth, who seems to have a wake-up call when she loses it in front of the kids. Beth is not all right.
As for Kevin, the discovery this woman wore the necklace his father so treasured has him shook. What was Jack's secret?
But this is not all fans will see next week. According to This Is Us executive producer Elizabeth Berger, who spoke to Entertainment Weekly, episode 6 also takes viewers back to 1991, when the triplets were 11.
I love episode 6. It has a really great throwback feel to it, because we're back with our 11-year-olds, and it's really nice to do a past story with Jack, and to see the whole family together. Randall's political story really heats up, and we're going to get to see him go head-to-head with Councilman Brown in a new way that we haven't seen yet, and see his campaign really begin to take shape.
But that's not all the episode "Kamsahamnida" will bring. According to Berger, this is the pivotal moment pushing the next phase of the present day story forward, along the inevitable track leading to Old Randall gathering everyone together to see "her."
The next phase of these journeys are launched in a big way.
This Is Us Season 3 continues next Tuesday on NBC at 9 p.m. ET.