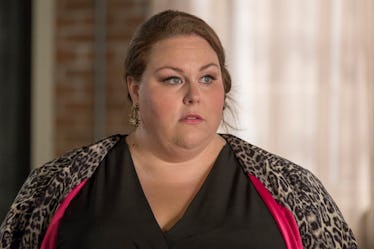 Next Week's 'This Is Us' Will Give Fans A Look At Kate's Emotional Journey
Ron Batzdorff/NBC
This Is Us' signature narrative move uses timeline jumps to offer further insight into its inhabitants' lives. A look at the This Is Us Season 3, Episode 3 promo teases that the tear-jerking drama is about to take audiences even deeper into the mind of one of The Big Three when Kate goes under for her egg retrieval surgery. Kate will get apparently go on her own "life-changing" era-hopping journey in next week's episode, as she comes face to face with her former selves. As expected, this show continues to find new ways to explore its characters' complex psyches.
"There is no way in hell you should be having a baby," teenage Kate (Hannah Zeile) tells a stunned present day, 38-year-old-Kate in the sneak peek clip. The Kates appear to be convening Pearson childhood kitchen, which makes the dreamy encounter that much trippier.
"What are you guys talking about?" asks young Kate (Mackenzie Hancsicsak). It looks like Kate is going to have to confront her past soon. Literally.
Kate isn't the only one trying to coming to terms with history. As Kevin continues to do press for his war film, he'll be grappling with how little understanding of his father's experience in Vietnam he has. It looks like Kev's about to embark on a personal exploration of his own.
The funny and often unfortunate thing about This Is Us is that because it spans so many decades, many of the actors don't ever get to work together because they don't cross paths in the same timelines. Ryan Michelle Bathe portrays Yvette, the mom of Randall's friend Keith. She just happens to be Sterling K. Brown's real-life wife, but because she's only seen in the young Randall flashbacks, the pair have yet to work together. Of course, the Big Three children aren't given the opportunity to act alongside their grown-up versions since they obviously can't be two (or more) ages at once. Until now.
"And she's such a love in real life. I just love her as a person. We're friends. I'm so grateful to have that, because so much of the younger Kate informs the adult. We get to play into each other in so many ways, but it's also still her character, her choices. It's so great to see her thrive in this character, and do it with such nuanced and interesting and subtle performances," Chrissy Metz has said of Hannah Zeile, the actress who plays teenage Kate.
Fun fact: Chrissy actually used to represent Zeile when she was an agent. Lucky for us and them, the performers will finally get the chance to act alongside one another.
While This Is Us' third season has focused on Kate's fertility struggles, it's also beginning to tackle Toby's descent into depression after abrubtly stopping his medication. According to exectutive producer Isaac Aptaker, this week's outburst was only "the tip of the iceberg."
"We're also trying to show that marriages have these really have these sad, painful, difficult chapters to them. And we've seen Toby be there for Kate on more than one occasion and really try to be her rock. And now we're going to have to see if Kate is up to the challenge when Toby is down," executive producer Elizabeth Burger added, speaking to Variety about the couple's hardships to come.
What can fans look forward to that's not hinted at in the Episode 3 promo?
"Who was that guy with the flowers?," Aptaker teased, when asked by EW what next week's episode might hold.
Sounds like viewers will be going back to the start of Jack and Rebecca's love story... This Is Us airs Tuesday nights on NBC.