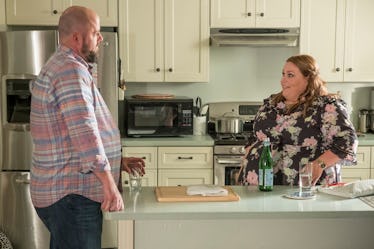 Next Week's 'This Is Us' Promo Gives Fans A Deeper Look At What's Going On With Toby
Ron Batzdorff/NBC
"I'm doing the very best I can," Rebecca says sternly in the This Is Us Season 3, Episode 2 promo. That phrase might just act as a running motto for the Pearsons as they face life's harrowing trials and surprising tribulations throughout the series. Season 3 kicked off with a lot hanging in the balance — the unknown "her" from that troubling flash-forward, Deja's comfort level in her new household, and Toby and Kate's fertility issues. The Big Three and company are doing the best they can with everything going on — whether it be in the past, present, or future — and the it looks like the hardships will continue to unfold.
Season 3's premiere, "Nine Bucks," served up a flashback that shockingly didn't make viewers want to retreat into a puddle of their own tears. The episode surrounded Rebecca and Jack's humble beginnings as a couple in the early '70s. The pair went on a carnival date that didn't include any ritzy wining and dining (Jack only had nine bucks in his pocket to take his future wife out, hence the title), but it did have a connection that could not be denied. It concluded with kiss and hopes of a second outing, even if some mystery dude kissing Rebecca might end up standing temporarily in their way.
This Is Us' next episode, "A Philadelphia Story," looks like it will jump into the '90s, presumably to a point where Jack is no longer alive. Teenage Randall asks his mother Rebecca if she's noticed Kate's eating or Kevin's drinking. She, as previously mentioned, is doing her best. But Jack isn't entirely missing from the clip. He's seen kissing Rebecca at one point and there's also a flash of them walking together. There's even some smiling, which is a nice departure from the abounding sorrow. Will next week jump around multiple time periods? The synopsis for the episode reads: "The Pearsons gather to support Kevin at his movie premiere. The teenage Big Three make college decisions."
"A Philadelphia Story" will also apparently dive deeper into the aftermath of Toby's secret decision to stop taking his antidepressants in an effort to improve his chances of conceiving a baby with Kate. He's shown looking up symptoms of medication withdrawal and lashing out at a stunned Kate and Rebecca.
"We showed last season it does take him to a very dark place, so we know that's coming. And we're going to be watching him come undone throughout the beginning of the season," executive producer Elizabeth Berger explained to EW when discussing Toby's choice to stop treatment.
Season 3's premiere had fans wondering if Kate might be the "her" future Tess and Randall weren't ready to see in the flash-forward that was introduced in the Season 2's finale. Hopefully next week will forge ahead in unraveling that mystery.
"It's not going to be what you expect, but it will be difficult to digest, for sure." Chrissy Metz revealed to EW.
This Is Us airs Tuesdays on NBC.