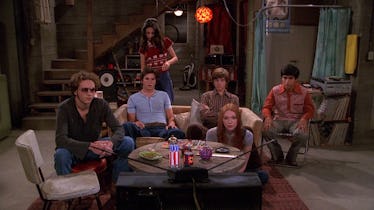 The Cast Of 'That '70s Show' Commemorated The 20-Year Anniversary In The Best Way
FOX
They say fads come around every 20 years or so. This checks out, as the 1990s have been stylish for the last few years. Also fashionable this decade: Laura Prepon in Netflix's Orange Is The New Black, Ashton Kutcher and Mila Kunis getting together and having two kids, Topher Grace in BlacKkKlansman, and Danny Masterson in Netflix's The Ranch. This can only mean one thing: That '70 Show is coming back around. Lo and behold, this week marks the That '70s Show 20-year reunion, and the cast made sure to commemorate it.
That 70s Show was one of the first big hits FOX launched using the post-Simpsons Sunday timeslot. The series was so popular by the end of the 1990s, it became one of FOX's flagship shows, with the team even creating That '80s Show. (It lasted for about six months.) It helped the teens on the show were (mostly) real teenagers, with Kutcher and Grace barely 20 and Prepon and Wilmer Valderrama just 18. Mila Kunis was actually underage at 15. (She famously said she'd be 18 on her birthday at her audition. She just failed to mention said birthday was three years off.)
Topher Grace took to Twitter this week to commemorate the good times.
Grace famously quit the show in Season 7, forcing the series to go on with out him. It made it one more year. But if anyone is looking for a revival, he'd say yes "in a heartbeat."
Speaking to People Magazine, he said: he'd do it:
Mostly just to hang out with everyone 'cause it's such a great group of people and I miss them so much. I love that group. I thought I was lucky to get the part but I now realize I was really lucky to get a part that was with that group of people.
Perhaps Grace shouldn't tempt FOX on doing a revival, since they seem to be all the rage this season. That '70s Show wasn't just a popular series either, but a well-decorated one. Over the eight years and 200 episodes, the series was nominated for no less than 16 Emmys.
Grace wasn't the only one memorializing the anniversary. His former co-star Laura Prepon also posted a commemoration with a very '90s looking photo.
She's apparently had the show on her mind for a while leading up to the anniversary because this was her Throwback Thursday post last week:
Wilmer Valderrama pulled out some old promo photos from before the series premiere.
Of the original Fab Five which made up the group, the only ones who didn't post were Ashton Kutcher and Mila Kunis. But considering their relationship history, it's understandable. After playing boyfriend and girlfriend for years on the series, and several other relationships between them in real life, the two finally got together in 2012, six years after the show's run had ended. They now have two kids.
If that's not a happy That '70s Show ending, I don't know what is.