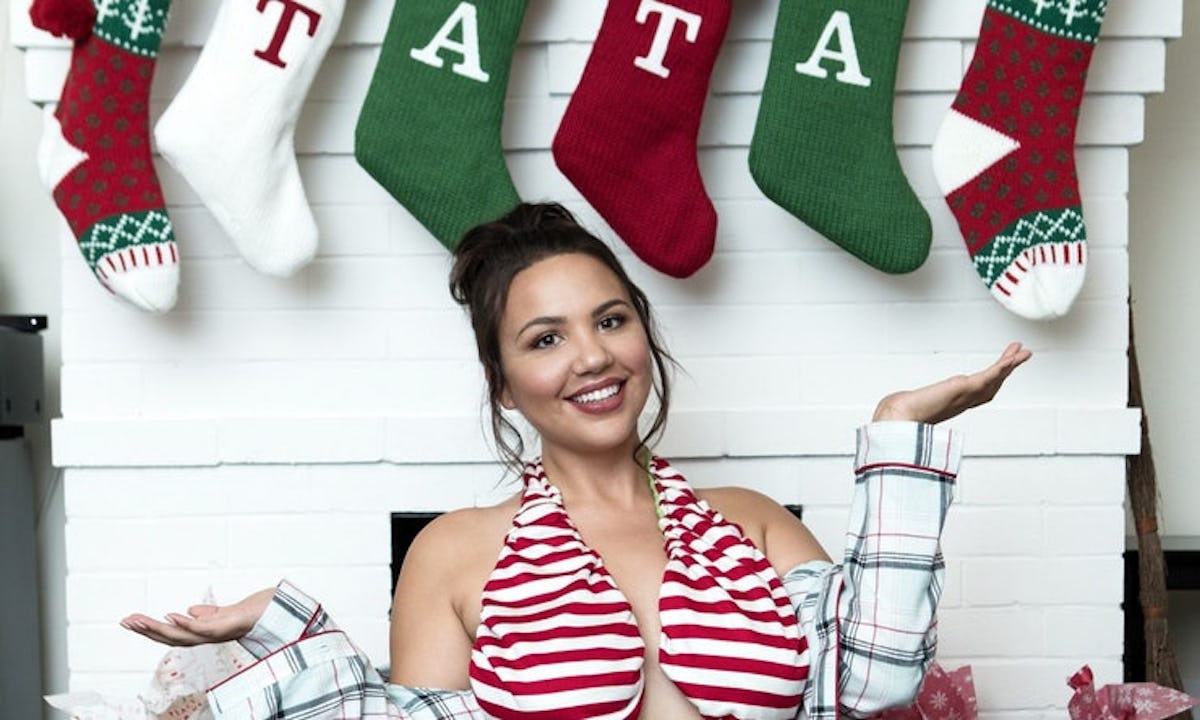 Ta-Ta Towel Company's Holiday Collection Is Here To Deck Your Boobs With Bows & Holly
Ta Ta Towels
I'm so here for anything festive around the holidays. The music, the food, delicious holiday beverages; you can count me in and sign me up for the whole enchilada. After some digging on the internet, I was super intrigued by the Ta-Ta Towel holiday collection. A towel for my boobs is not something I ever realized I needed, until this very moment. I've been so, so wrong.
We're all friends here, and I would like to assure you that my corner of the internet is always going to be a safe space. I'm not afraid to admit that I, Allanah Janel Dykes, occasionally suffer from underboob sweat. Yikes, I know — I'm a real human woman! I would classify my chest as fairly average-sized, but regardless of breast size, I think every woman can relate to the pesky nature of boob sweat.
What started out as a simple solution to underboob sweat quickly became more, as Erin Robertson, the creator and founder of Ta-Ta Towels, discovered her invention helped women in many different ways. Whether you're at the spa, gym, or just lounging around the house, Ta-Ta towels cloak your chest in soft, hammock-esque support that is often more comfortable than free-boobing it. The towels have even been shown to help breastfeeding mothers, because the ultra-soft rayon liner was made for sensitive skin, and functions to absorb breast milk that might leak out during feeding.
I don't suffer from boob sweat on the daily, unless I'm dealing with extreme Southern heat or humid temperatures. It almost always appears when I'm getting ready to go out, and I mean going out. Somewhere a psychologist is reading this and extrapolating that I might have a fear of going out, but I never get underboob sweat when I'm actually anxious. I don't know if it's from the dancing while getting ready, the humidity in the bathroom, or trying to figure out what to wear, but it's so annoying. Like seriously I just showered and want to feel soft and feminine, not like a construction worker. That's where Ta-Ta Towels come in. Robinson explains they may even help to alleviate moisture rashes.
I started handing the towels out to my friends to get some feedback... A friend of mine got rashes under her breasts due to moisture buildup; after using the towel, her rashes completely disappeared. The towel kept her breasts dry — bye-bye rashes."
Just in time for the holidays, the brand has a whole slew of new boob slings to keep you festive AF all season long. Word to the wise: You better order now, because this limited-edition line is already running out of stock. Plus, what BFF doesn't want to receive a boob hammock from their homegirl?
The Take A Stroll Down Candy Cane Lane Towel
Seriously, how cute is this? The candy candy pattern is great, whether you're getting ready for an Ugly Christmas Sweater themed party or just looking to chill around the house. All of the Ta Ta Towels are reversible, so if you want to switch to the lime green side, go right ahead.
The Drei-doll, Drei-doll, Dreidoll Made Out Of Terry Cloth Towel
It's important to note that the holiday season doesn't just revolve around Christmas. Although this "drei-doll" may not be made out of clay, this towel is ideal for getting ready for synagogue Hanukkah services. It's even better if you enjoy working in the kitchen to prepare latkes or raspberry and apricot Rugelach.
The Not-So-Silent Night Towel
This print is not only super dashing, it's super seductive. If you're not into having your boobs look cute in a candy cane pattern, this is the one for you. The red makes it holiday-themed, but you can totally rock it any time of year with no questions asked.