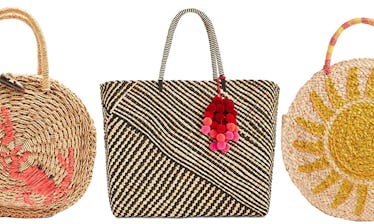 15 Affordable Bags That Scream "Summer 2018!" In The Best Way Possible
Most people count down the days until summer because they can't wait to go to the beach. I, on the other hand, live in LA, where it's warm enough to wear dresses all year round. Especially since graduating high school, summer just doesn't have the same effect as it once did. But there's one thing I do get excited about: colorful accessories. This season is all about the summer 2018 beach bag trend, and I'm loading up on every straw-woven, tassel-embellished tote there is — and I don't even have a single beach day on the calendar.
Think about it: Who wants to spend the sunny season lugging black leather around? Time to lighten up your load, in both senses. The latest crop of beach bags boast upgraded bells and whistles, so you can carry them around when you're not in the sand without looking silly.
Whether you live by the beach or not — even if it still feels like winter outside — here are 15 bags that will brighten up any outfit. Oh! And did I forget to mention you won't find a single bag over $80? You're welcome. Now you can spend all the money you saved on actually getting to the beach.
The Hybrid Beach Bag
Perfect for evening beach events, this part-straw-part-fringe tote pairs with everything from bikinis to a little black dress. River Island Straw Tote Beach Bag ($51; asos)
The Statement Shape
Beach bags in interesting shapes, like this half-moon bag, instantly up the cool factor of any outfit. South Beach Half Moon Contrast Stripe Straw Beach Bag ($40; asos)
The Carry-All Tote
I love a strong tote bag that can carry everything from beach toys to fruit you picked up on a farmers' market run, especially when it has cute embroidery and tassels to brighten it up. America & Beyond Hand Embroidered Leaf Structured Beach Bag ($67; asos)
The Oversized Beach Bag
This circle-shaped bag is big enough to carry your beach towel, sunscreen, a change of clothes, and so much more. Plus, it looks cute, which further proves being prepared is chic. L Space Beach Weekend Bag ($79; backcountry)
The Embroidered Raffia
I'm obsessed with those big beach hats that have messages embroidered into the brim. If the huge hat isn't your thing, consider rocking an embroidered bag. Buji Baja To The Beach Raffia Tote Bag ($56; lastcall)
The Cute Crab Mini
OMG, how cute is this tiny crab bag? It might not be big enough to carry all your beach toys, but it pairs perfectly with that white beach dress you've been waiting to wear. Topshop Crab Straw Mini Tote Bag ($40; nordstrom)
The Ombre Beach Basket
Tell me this bag isn't perfect. It's a cute ombre basket weave with matching pom-poms hanging off the handle. It's perfect. I know it is. Lucky Brand Basket Beach Tote ($79; luckybrand)
The Summer Basic
If head-to-toe color isn't your thing, this black and white weave is achromatic enough to match your monochromatic wardrobe, but it has a hint of color, because summer. I.N.C. International Concepts Stella Woven Beach Tote ($59; macys)
The Sunny Circle-Shaped Bag
This round bag has a sun printed on the side. Enough said. Shine Raffia Circular Tote ($79; nordstrom)
The Summer Macramé
Add a pop of color to your outfit with this bright red macrame tote bag. Topshop Macramé Tote Bag ($48; nordstrom)
The Plastic Tote
This entire tote is woven out of pieces of plastic, so you won't have to worry about getting it dirty. Just rinse it off to make it look new again. A New Day Plastic Woven Tote Handbag ($30; target)
Not Your Grandma's Beach Bag
It looks a little bit like the bag your grandma uses to carry all her knitting supplies, but this color-blocked version is much more beach-day appropriate. Fabric Bucket Bag With Wooden Handle ($50; zara.com)
The Colorful Weave
Speaking of grandma, I'm pretty sure she has one of these too! Mat-Effect Tote Bag ($70; zara.com)
The Cool Girl Shopping Bag
Consider this the updated version of those net bags you see at the farmer's market all the time. Tote Bag With Knotted Detail ($45; zara.com)
The Sophisticated Beach Bag
Headed to a beach wedding? This tote strikes the perfect balance between black-tie fancy and beach-day playful. Rigid Handle Tote Bag ($50; zara.com)