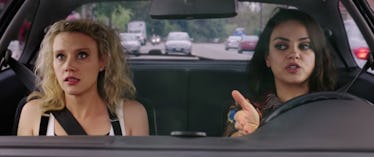 Mila Kunis & Kate McKinnon Are Hilarious In The First 'Spy Who Dumped Me' Trailer
Lionsgate
Kate McKinnon and Mila Kunis are about to be your next fave big screen duo because they have some serious comedic chemistry in the recently-released The Spy Who Dumped Me trailer. In the upcoming film, Kunis stars as 30-year-old Audrey, who finds out that the boyfriend (Justin Theroux) who just dumped her was actually a CIA agent. She and her BFF Morgan, played by SNL standout McKinnon, get entangled in a dangerous international conspiracy when deadly assassins target her and her ex. The pair rises to the occasion and heads to Europe to save themselves and the world.
The unlikely spy situation has been done before (see: Spy, This Means War, Get Smart, all the Naked Guns), but watching Kate and Mila do their action-packed comedy thing is already cracking me up. Their characters' friendship appears to be at the center of the film amidst all the badass bad guy fighting and wild espionage shenanigans. Of course, both of the actresses' expert comic timing is on full display here. "Do you want to die never having been Europe or do you want to go to Europe and die having been to Europe?" McKinnon asks her pal at one point. "Why are those my only two options?!" Kunis responds.
The Spy Who Dumped Me is directed by Susanna Fogel, who previously helmed the 2014 film Life Partners and has worked on shows like Chasing Life and Famous in Love. It also features Outlander's Sam Heughan as an operative who appears to be managing the mission and The X-Files' Gillian Anderson (who McKinnon's Morgan refers to as "the Beyonce of the government" in the clip) as his boss.
"It's the most fun I've ever had. I say that honestly," McKinnon said of shooting the movie, which is pretty high praise considering she's had some unforgettable Saturday Night Live moments over the years and was in ensembles like Ghostbusters, Rough Night, and Office Christmas Party.
"It literally was one of the best adventures I've had," Mila added in their interview with ET in April. "It's an homage to spa movies. I think the idea of being a spy is hard to relate to. We play the version of like if someone goes, 'now, go be a spy.' This is what would happen."
It's no wonder that Kate and Mila gel so well together in their roles — the two of them got close throughout making the movie and formed a real-life friendship. Aw, don't you just love it when that happens? "We just met on the movie, but instant love," McKinnon revealed to Ellen in a March interview where the co-stars adorably gushed about one another.
It helps that they're both diehard fans of The Bachelor. Reality TV brings everyone together. (Honestly, if you're ever at party and feel awkward because you don't know anyone just shout the word "Vanderpump" and you'll make at least four new besties on the spot.) Kate and Mila additionally shared their theories on the whole Arie/Becca/Lauren debacle, which makes me want to be a part of their friend group even more.
Mila is currently lending her voice to 2019's animated adventure Wonder Park. Kate McKinnon is about to wrap up her seventh season over at SNL — Season 43 has two more episodes to go before going on hiatus. As Kate's career continues to skyrocket, fans are sincerely hoping she'll stick around the late-night sketch show. What would we do without her Justin Bieber and her Frances McDormand impressions?
It will be a long summer without Kate and company, but it's nice to know audiences can catch her in theaters alongside the hilarious Mila Kunis. The Spy Who Dumped Me comes out on August 3, 2018.