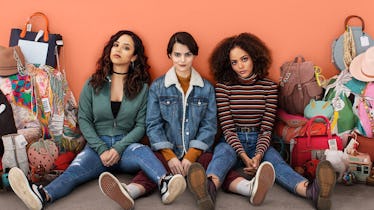 All The Songs On The 'Trinkets' Season 2 Soundtrack Are Such A Mood
Netflix
Netflix's wide away of streaming offerings can lead to shows getting greenlit that otherwise might not see the light of day. Trinkets is a perfect example of that type of series. It's a show that focuses on the ups, downs, and deep-rooted feelings of teen friendships among girls. But these are not your average problem-free teens. Instead, they meet due to having the same predilection in their acting out: shoplifting. Like any good teen series, it's also all about the music, and the Trinkets Season 2 soundtrack continues the trend of blending storytelling, feelings, and indie pop to sublime perfection.
Fans were drawn to the first season's lineup of eclectic bops, which featured everyone from indie darlings The xx to St. Vincent. But the highlight was discovering actress Kat Cunning, who plays Sabine on the series, recorded her own original compositions for the album. Season 2 continues that formula. Like Season 1, it dips into tracks by Seattle's Chastity Belt and Katherine Paul, the Iñupiaq singer-songwriter known as Black Belt Eagle Scout. Plus, there's the fun Australian band Phantastic Ferniture and Swiss-born folk singer Soccer Mommy.
Also, Cunning is back again on the album, performing tracks like "Supernova (Tiger's Blud)," which once again blurs the line between artist and character. In all, the tracklist for Season 2's offerings is 70 songs strong.
Here's the full list:
"Supernova (Tiger's Blud)" by Kat Cunning
"All Yours" by Widowspeak
"Dead of Night" by Orville Peck
"Sleepy Eyes (The Seshen Remix)" by SISTERS
"Gotta" by Austin Crute
"I Think I Like You" by Goldenface
"Feel Something" by Clairo
"The Embers" by Vagabon
"William" by Graveyard Club
"Coming Alive" by Zuma
"Neon" by Lykke Li
"Uptown Girl" by The Beths
"Reasonable Lie" by Soft Streak
"Hold Steady" by Kacey Johansing
"Go Home" by East of My Youth
"Bad Boy Sad Boy" by BjORDAN
"Falling" by Aan
"Doctor Doctor" by Oh Pep!
"Figure It Out" by Chaos Chaos
"Dig That Sound" by Bloke & Bird
"Not Alone" by Lusine feat. Jenn Champion
"Dare You Not To Dance" by Haiku Hands
"Goonda Gold" by Cartel Madras
"Far Away Place" by Xinobi, Vaarwell
"Bom Bom" by Tkay Maidza, Danny L Harle
"Serve The Rich" by PINS
"Green Lights" by VVELLS
"Destroyer" by Lala Lala
"Holy Moly" by Chris Staples
"July Flame" by Laura Veirs
"Dive" by The Seshen
"Gap Year" by Phantastic Ferniture
"Summa" by Peach Tree Rascals
"Make It Hurt" by Sydney Franklin
"Mixer" by Amber Mark
"Blue Collar Sex Kitten" by Lauren Ruth Ward
"Knock Me Off My Feet" by SOAK
"It Takes Time" by Chastity Belt
"Bad Thing" by PINS
"The Side Stepper" by The Bamboos
"Bad Habits" by Madame Gandhi
"ZUU" by Denzel Curry
"Highway" by Suzi Wu
"Malibu Barbie" by Miya Folick
"rbbts" by Kate Davis
"Who You Are" by Mannequin Pussy
"Falling" by Bouguet
"Thoughtforms" by Lush
"Hard to Kill" by Bleached
"Easier" by Sorry Girls
"Hi-Fi" by M. Ward
"My Heart Dreams" by Black Belt Eagle Scout
"Don't Forget About Me" by Alice Boman
"Brand New" by Cameron Bethany
"Someone New" by Caroline Rose
"Too Drunk to Breathe" by Miguel Mendez feat. Pearl Charles
"Outside" by Seapony
"Dan Loves Patti" by Yum-Yum
"Gems and Rubies" by Valley Queen
"Two Life" by Our Girl
"Your Dog" by Soccer Mommy
"Baby" by Francesca Blanchard
"Pain" by Boy Harsher
"Court of Love" by Durand Jones & The Indications
"Onda" by Guaxe
"Wasted Nun" by Cherry Glazerr
"All I Want" by Francis
"Time Is A Dark Feeling" by Florist
"Dolla$" by Daisha McBride
"Yellow Is The Color Of Her Eyes" by Soccer Mommy