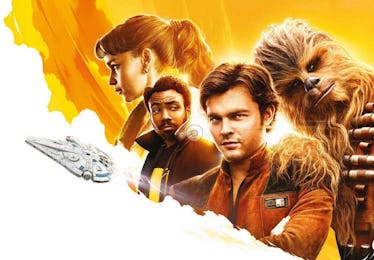 The First 'Solo: A Star Wars Story' Reviews Are In & You'll Want To See It ASAP
Lucasfilm
In less than two weeks, Solo: A Star Wars Story will arrive in theaters across the globe, the first of the rebooted franchise to premiere in Lucasfilm's old Memorial Day stomping grounds. But the production, which has been beset by production drama since last summer, is looked at with disapproval by some fans. With a debut date that no longer lines up with expected norms, multiple directors, and a Han Solo who looks like a cross between Benicio Del Toro and Chris Pine, can it be good? The first Twitter Solo: A Star Wars Story reviews are here, and the answer, it turns out, is that we can all relax. According to those who saw the Los Angeles premiere, it's a great film.
Before digging in, a quick reminder that these are not full-fledged reviews. The review embargo for journalists doesn't lift until after the film premieres at the Cannes Film Festival on May 15, which is 5 p.m. ET.
Spoiler-free Twitter reactions can be a good indication of how viewers who saw the premiere (or their local press screening) felt about the film. But sometimes they can also be misleading. For instance, Batman v Superman had decent-sounding Twitter responses from the premiere. But when the full reviews arrived, the Rotten Tomatoes ratings dropped through the floor.
But even so, the Twitter reactions for Solo seem to suggest one viewing will be enough to wash away the memories of last summer's rough patch.
Some warn the movie takes a bit to warm up. But once it does, it's good stuff.
One reviewer said the "First Act" would probably frustrate viewers, but to wait it out.
"Charming" was one of the keywords of the Twitter responses.
Reviewers also made sure fans knew any hype about Alden Ehrenreich's take on Han Solo not being up to snuff vis-a-vis Harrison Ford's take were greatly exaggerated.
Some talked about "adjustment periods" to get used to "New Han," but that's probably to be expected.
Other reviewers promised those who are waiting for the film to premiere on May 25 are in for a treat.
For some fans, the chance to see a different side of the Galaxy was worth everything, calling this our first look at the "blue collar" parts of the Star Wars universe.
There were lots of reviewers name-checking Lando's sidekick L3-37 as the character to watch.
A lot of people liked L3.
Naturally, they all loved Donald Glover.
And then there were those who couldn't help but reveal that there is a major moment in the film that's being kept under wraps.
As in, a "serious spoiler" type moment.
This is kind of surprising since the trailers give the sense of revealing most of the film, including the moment Han gets his blaster, Han wins the Falcon from Lando, and when Han and Chewie become friends. So, what don't we know?
Could it be about the Kessel Run? Twitter reviewers were no help. Some even came out with fake spoilers, just to mess with people.
With reviewers now on the hype train, the final two weeks of press and PR will be kicking in, and there was a lot of promises of more information and interviews to come.
Of course, there were a few grumbles, not about the movie being bad, but whether or not it was necessary to begin with.
But Star Wars doesn't care about that, because this is the beginning of a new franchise. Ehrenreich has been signed for up to three Star Wars films, and many smelled a trilogy not far behind.
Solo: A Star Wars Story arrives in theaters everywhere on May 25, 2018.