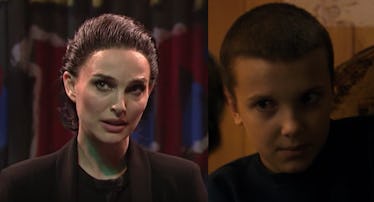 Natalie Portman Played Eleven On 'SNL' & 'Stranger Things' Fans Are Screaming
YouTube/Netflix
The love for Stranger Things has been going strong ever since the Netflix series debuted in the summer of 2016. Since then, fans have not only been keeping up with the show, but they've also grown to adore the cast. One of the results of that has been the recent comparisons of Millie Bobby Brown (who portrays Eleven on the show) to a young Natalie Portman. Fans have been sharing plenty of side-by-side photos of the actresses, and it turns out that there is quite a striking resemblance. Not letting an opportunity slip by, the SNL Stranger Things sketch with Natalie Portman totally embraced the comparisons, and fans loved it.
The Stranger Things sketch that brought the comparison to life centers around Eleven (played by Portman) discovering other kids who have similar "abilities." Cecily Strong played Nine, who can read people's minds but doing so makes her fart. Get it? Because Eleven can move things with her mind but doing so, as Portman's Eleven said, "gives me tiny nosebleeds." Unwanted flatulence issues and nosebleeds aside, the best part of the sketch for many fans was Portman playing Brown's Stranger Things character.
Portman slicked back her dark brown hair (á la Eleven's short style in the show), and she wore an '80s inspired black blazer ensemble with cuffed jeans. She basically nailed the look.
While the hilarity of the sketch might be up for debate, there is no doubt that diehard Stranger Things fans are very much here for Portman in the parody.
Viewers and fans agreed that this Portman-Eleven mashup was everything.
"This Stranger Things skit is everything right now. Millie literally looks like a young Natalie Portman and to see her play Eleven is too hilarious."
SNL embracing the similarities between Portman and Brown was exactly what some fans had been waiting for.
"...I think my life is pretty much complete"
Fans were happy with this specific incarnation of the actresses portraying one another.
"Everyone said Millie Bobby brown should play young Natalie Portman. But Natalie Portman was like nah I'm gonna play Millie Bobby Brown."
Some fans didn't even know they wanted a Portman as Eleven sketch until they got it.
"Never knew how badly I needed this."
Real-life memes are what the people want in 2018.
"This is why I love celebrities, they make memes real."
If you're wondering how this Portman and Brown comparison came to be, then look no further than all of the tweets about it. In January 2018, it was revealed on Twitter that Brown might resemble a young Natalie Portman, and photo comparisons of the two actresses flooded the internet.
There is good reason, though, because the resemblance is almost uncanny.
Once the discovery was made, there were so many questions.
"I NEED ANSWERS."
They have even both rocked a mini buns hairstyle.
"The internet thinks Millie Bobby Brown looks exactly like a young Natalie Portman."
There was photo evidence of slicked back hair similarities long before Saturday night.
OK, this is becoming almost eerie.
What are the odds they both would've shaved their heads for acting roles?
I guess only the doppelgängers in question know the answer to that one.
While the actresses might share a passing resemblance of one another, there is not much chatter concerning this phenomenon from the actresses themselves. Brown hasn't yet commented on Portman's portrayal of Eleven on SNL, and there is not much out there (beyond the sketch) that speaks to Portman commenting on their resemblance of each other either.
Even though the actresses appear silent about the comparison, fans are still very much here for it. Now that fans have been satisfied with a Portman-Brown mashup via the Stranger Things sketch, the only thing left to do is wait for the real life side-by-side photo of the pair making all of your doppelgänger dreams come true. Fingers crossed!