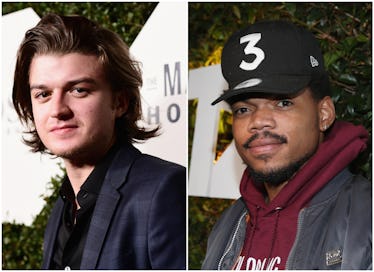 The 'Slice' Trailer Shows Joe Keery & Chance The Rapper Like You've Never Seen Them Before
Emma McIntyre/Getty Images Entertainment/Getty Images & Jonathan Leibson/Getty Images Entertainment/Getty Images
At this point, we may as well expect Stranger Things' Joe Keery to sign up for a lifetime of projects in the horror genre. The actor who first won us over as a baseball bat-wielding Steve Harrington is appearing in a new horror film with an unlikely co-star. The Slice trailer shows Joe Keery and Chance the Rapper in a totally new way, but that definitely doesn't stop me from adding this to my must-watch list ASAP. Can we pretend this is just a story of Steve all grown up and facing mysterious trouble once again?
The Netflix drama Stranger Things may deal with Demogorgons and supernatural creatures, but this horror story from production company A24 (the same company that blessed us with Lady Bird, FYI) is slightly more grounded in reality. The very '80s-esque trailer introduces us to the small town of Kingfisher, where the mood turns tense after two pizza delivery boys are murdered while working. The gruesome deaths inspire two employees at the pizza shop, Astrid (Atlanta's Zazie Beetz) and Dax (Chance the Rapper) to team up with local reporter Jackson (Keery) and track down the killer. However, all clues soon point to the suspect being a werewolf who reached the pizza shop via a portal to hell.
This portal may not be the Gate to the Upside Down, but it sounds like Keery will be in slightly familiar territory alongside Chance and Beetz. Small towns just beckon to otherworldly monsters, huh?
Slice is Chance's first film role, but he's working with friends behind the scenes. The movie's director, Austin Vesely, has worked with Chance the Rapper in the performer's music videos for "Sunday Candy" and "Angel." Vesely also appears as one of the murdered pizza delivery guys in the trailer.
While most horror stories introduce a strange occurrence that has happened for the first time, the Slice trailer hints that this isn't the first time the werewolf has stopped by Kingfisher. The promo's background music totally resembles the eerie Stranger Things theme tune, but Slice appears to embrace the slightly cheesy special effects of movies that were actually filmed in the 1980s. When was the last time you saw eyeballs popping out of someone's head as seen in the trailer? Movies like Who Framed Roger Rabbit and Beetlejuice come to my mind.
According to a 2016 interview with Vesely, the film's exaggerated, surreal tone is intentional. Speaking to Pigeons & Planes, Vesely revealed:
People ask me often if the film is really scary. I hope it has its moments but it's more of a comedy for me. Tonally, I was really inspired by Twin Peaks, if that says anything. I studied Paul Thomas Anderson's movies to figure out how to balance multiple narratives. TV shows as well, like Twin Peaks, to discover how to establish a sense of place.
Well, I'm definitely intrigued by the mystery of Kingfisher. How soon into the film do local police and a gang of preteen boys also start investigating this murder case a la Stranger Things?
Keery, Beetz, and Chance the Rapper join a cast that also includes Paul Scheer, Katherine Cunningham, Y'lan Noel, and Rae Gray. Although the trailer doesn't specify an exact release date, Slice is due in theaters sometime this fall.