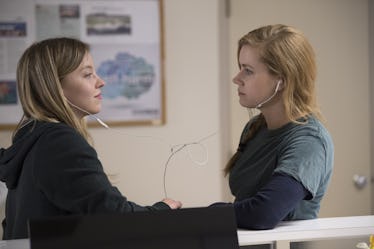 The 'Sharp Objects' Soundtrack Will Be Your Go-To Playlist, Even If You're Not In Wind Gap
HBO
Nothing stirs up your feels while watching a TV show better than a fitting soundtrack, and in the case of HBO's Sharp Objects, it has the perfect soundtrack to accompany its creepy Southern Gothic vibes. You can now stream the music of the show on Spotify, and if you're obsessed with the limited series' hauntingly beautiful visuals and captivating story, the Sharp Objects soundtrack will definitely become your go-to playlist of the summer. Forget Amy Adams' inevitable Emmy nomination for now, because this music compilation deserves its own award ASAP.
Based on Gone Girl novelist Gillian Flynn's debut novel, Sharp Objects follows journalist Camille Preaker (Adams) as she returns to her suffocating hometown to investigate the murders of two local girls. She's also left to deal with the repercussions of a difficult relationship with her mother Adora, who Camille inevitably drifted away from after the death of her sister years before, and the dominant presence of her half-sister Amma. Sharp Objects shares director Jean-Marc Vallée and music supervisor Susan Jacobs with HBO's other recent critical darling, Big Little Lies, and the similarities prove strong when it comes to the stellar musical choices in Sharp Objects.
On Spotify, Columbia Records has released a playlist of the songs that have appeared on the series thus far. While fans can't buy an official Sharp Objects soundtrack album yet, the playlist does help any curious viewers track down a certain song to buy elsewhere. Even if you haven't managed to binge what's aired of Sharp Objects so far, the first few songs of the playlist ought to put you in the mood for the show again.
If you're into the type of music that stirs up visions of a sticky dive bar serving bourbon, "Come Down," by Sylvan Esso, and The Acid's "Tumbling Lights" sound like the type of Southern ballads that hipster musicians would be singing in the corner of said bar. In a move of music immediately pegging a show's tone, the sleepy "Come Down," first heard in Episode 1's dream sequence, essentially confirmed that Sharp Objects won't have its fleeting moments of sunniness like Big Little Lies has.
As The Atlantic pointed out, almost all of Sharp Objects' music happens within the context of the story, emerging from an onscreen source. Such a decision allows the viewer to understand both the character's mind and the shifting tone of the story. Recent episodes have introduced a range of music including Led Zeppelin's "I Can't Quit You Baby" and a piano version of Bach's Concerto in D Minor. A Snoop Dogg tune is just as likely to accompany a Sharp Objects scene as dreamy French music is. I may not have understood anything in Michel Legrand's "Les moulins de mon coeur," but if a show can include rap and foreign music on its soundtrack, you know that the series is delightfully eclectic.
Jacobs made history last year when she won the first ever Emmy for music supervision for her job on Big Little Lies. If the first half of Sharp Objects is anything to go by, maybe Jacobs will find herself back in this category at next year's Emmys. Until then, I'll be playing the show's Spotify playlist on a loop until a possible album hits the shelves.
Sharp Objects returns on Sunday, July 29, at 9 p.m. ET on HBO.