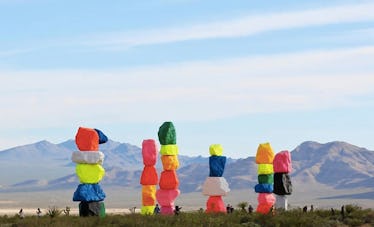 The Seven Magic Mountains Are Meant For Your Next Dreamy Instagram Snap
Whether it's a vibrant street art design, or a live performance in the park you pass by on your walk to work — there's no doubt that in some way, shape, or form, art holds a special place in many of our hearts. Therefore, it's only natural that we seek it out as often as humanly possible — in road trips, museums, and throughout our international travels. There's so much art to experience across the globe, and if your wanderlust is calling, you better add some gems to your bucket list ASAP. In addition to the colorful Antelope Canyon in Arizona, you should definitely work the Seven Magic Mountains into your travel itinerary.
While you're standing next to the grand Seven Magic Mountains, it will feel like an escape from reality. I mean, what could be more captivating than gazing up at seven neon-painted rock structures (that are over 30 feel tall) in the Nevada desert? The art was created by Ugo Rondinone, an artist from Switzerland, and it's way closer to Las Vegas than you might think — only about 10 miles away.
If the vibrant pictures alone aren't enough to get you up and planning your trip to this magical wonder as we speak, hang tight. These four reasons will get you there and snapping some epic pics for the 'Gram in no time. Trust me — you and your crew really don't want to miss out on seeing this site in person.