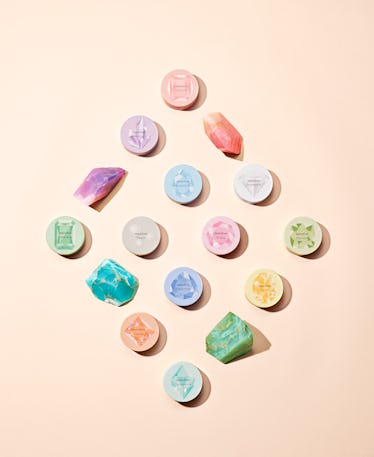 There's An $8 Setting Powder For Each Birthstone, So Your Personality (Not Your T-Zone) Shines
Innisfree
I'm not much of a zodiac follower. I'm an Aquarius, but I'm not sure what my rising sign is (does everybody have one?). A characteristic of my sign is that I'm social, which is true. Oprah is an Aquarius. Monthly horoscopes are interesting, but I never remember important dates, so who knows if they're really accurate. That's basically the extent of my zodiac knowledge — I'm more of a birthstone girl anyway. If you're like me, this is the setting powder you need to use according to your birthstone.
Growing up, I bought everything according to my birthstone. I had earrings, a bracelet, my high school graduation ring, and necklaces, all displaying the amethyst stone (my birthday is in February). Even now, my favorite ring is a dainty gold band with a single purple stone in the middle of it. These days, everything is based on your zodiac sign — why can't it go back to simple colors?
Finally, there's a new beauty product that combines my affinity for birthstone everything and makeup. The K-beauty brand Innisfree just launched a loose setting powder that comes packaged in 12 different jars, one for each birthstone of the year, from garnet all the way to turquoise. Now you can personalize your vanity, even if you have no idea what your rising sign is.
The Innisfree Birthstone Matte Mineral Setting Powder ($8; innisfree.com) is a new edition of its cult-followed oil-controlling loose powder. It's made with Jeju minerals and mint, which keeps oils at bay all day, without making you look chalky or dry. Aside from keeping you matte, the setting powder is perfect for setting liquid makeup and keep it in place, no matter what's on the agenda. The container even comes complete with its own little powder puff built right in so you can touch up on the go.
What's Your Stone, Beautiful?
January — Garnet
February — Amethyst
March — Aquamarine
April — Diamond
May — Emerald
June — Pearl
July — Ruby
August — Peridot
September — Sapphire
October — Opal
November — Topaz
December — Turquoise
Perhaps the best part about these birthstone-inspired setting powders is each one will only cost you $8 (that's less than most morning coffees). Not only can you add your birthstone to your own vanity, but at that price, it makes the perfect birthday gift for all of your friends. It says "please enjoy this personalized gift. And also, I love you so much, I want your makeup to be on point, always. Happy birthday!" Birthday shopping made easy!
If you're even remotely interested in getting your hands on these birthstone-themed setting powders, act fast because they're limited edition (you know, like all good things in life are). Also, if I were you, I'd pick up a bunch of different birthstone colors — and I don't mean for birthday gifts. The best part is even if you don't love your birthstone, you can get any of the above. Since they're a subtle nod to each birthstone, (thankfully they don't have your birth month splattered across the top) collecting a few would just look like a collection of crystals, but for your makeup.
Staying on top of your horoscope, trying to calculate a birth chart, and guessing your rising sign can be exhausting. Instead, just shop for a handful of pretty birthstones (yours and others) to brighten up the inside of your vanity. And the best part is your makeup will look on point all year, even when Mercury is in retrograde.