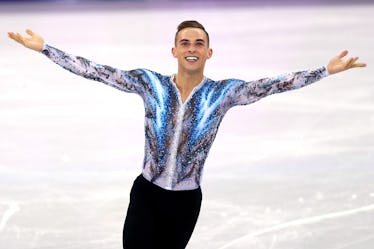 Here's When To Catch Adam Rippon Competing During The Winter Olympics
Maddie Meyer/Getty Images Sport/Getty Images
On Sunday, Feb. 11, we got our first taste of how great the American figure skaters are in the 2018 Olympics when we saw them medal in the team event. They took the bronze medal, lead by Mirai Nagasu (and the first triple axel landed by an American woman in Olympic competition) and Adam Rippon, whose artistry in the free skate was so beautiful, even Tara Lipinski and Johnny Weir stopped talking for minutes on end. So, what is the schedule of Adam Rippon's competitions? Because after that spellbinding skate, fans want to make sure they don't miss another minute of him on the ice.
Figure skating is one of the most popular of the Winter Olympics sports, drawing fans from around the globe to watch, so most of the action winds up on prime time on NBC's flagship channel every night that it's held — which is almost every night of the two-week event. (12 evenings all together, if you count the pre-opening ceremony stuff.) It's like gymnastics in the Summer Games. Everyone wants to watch figure skating.
But for those who either aren't home to watch or have other shows on the DVR to catch up on, when will the competition be live-streaming? Turns out that the South Koreans schedule the figure skating events so they sync up to our clock here in America. Almost all the events conveniently start live either on or around 8 p.m. ET.
There are three kinds of figure skating events at the Olympics. Here's a breakdown for those who aren't familiar with the terms:
Single Skating: Consists of "Short program" and "Free Skating Program." Performance must include "jumps, spins, steps."
Pair Skating: Consists of a couple performing maneuvers including "throw jumps, overhead lifts, pair spins and death spirals."
Ice Dance: Consists of a couple performing dancing on ice. Skaters "cannot be away from their partner for 5 seconds or longer."
Here's the full rundown of the schedule, including the stuff you've already missed. (All times Eastern Standard.)
Thursday, Feb. 8 Team: Men's & Pairs Short Program 8:00 p.m.
Saturday, Feb. 10 Team: Ladies & Dance Short, Pairs Free 8:00 p.m.
Sunday, Feb. 11 Team: Men's & Ladies Free Skate, Free Dance 8:00 p.m.
Tuesday, Feb. 13 Pairs Short Program 8:00 p.m.
Wednesday, Feb. 14 Pairs Free Skate 8:30 p.m.
Thursday, Feb. 15 Men's Short Program 8:00 p.m.
Friday, Feb. 16 Men's Free Skate 8:00 p.m.
Sunday, Feb. 18 Ice Dance Short Dance 8:00 p.m.
Monday, Feb. 19 Ice Dance Free Dance 8:00 p.m.
Tuesday, Feb. 20 Ladies Short Program 8:00 p.m.
Thursday, Feb. 22 Ladies Free Skate 8:00 p.m.
Saturday, Feb. 24 Exhibition Gala 7:30 p.m.
That makes the only nights off Monday, Feb. 12, Saturday, Feb. 17 and Wednesday, Feb 21. Rippon isn't performing every single one of those nights. He'll be performing on Feb. 15 and 16 and then for the Exhibition Gala. But he'll be in the arena on those other nights, cheering on his friends, like Mirai Nagasu. As he revealed on Feb. 11 in his post-skate interview, he and Nagasu are fast friends who spent the 2014 Olympics hanging out, eating burgers, and swearing to each other they would do whatever it took to go to PyeongChang in 2018.
You know, especially tonight, my friend Mirai [Nagasu] and I… four years ago, we got In-N-Out, we went back to her house, we climbed up to the roof of her house, and we were eating In-N-Out because we were so upset that we weren't at the Olympic Games. Tonight, you know, the Olympics are truly magical, because we came out here tonight, and — we're roommates here, staying at the Olympic Village — we gave each other a hug, and I said, 'You know, Mirai, we're here! We did it!'
To learn more, visit teamusa.org. The Winter Olympics will air live starting February 8.