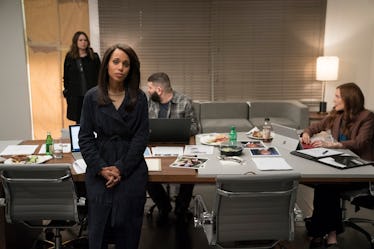 The 'Scandal' Cast Just Finished Filming & Their Tweets Will Wreck You
ABC's powerhouse TGIT lineup is reaching the end of an era. With Scandal set to conclude its seventh and final season on April 19, the cast wrapped filming this weekend and, no surprise, things got emotional. While fans still may be freaking out over the show's unresolved storylines, the cast now has a sense of closure, as evident by their heartfelt tweets following the wrap of the series. The Scandal cast's tweets about the series finale will make you completely dread the show's impending finale. Ready or not, here it comes!
Entertainment Weekly reports that the cast and crew wrapped filming early Saturday morning, finishing the session in tears. Several cast members, as well as creator Shonda Rhimes, shared closing thoughts, pictures, and videos on Twitter throughout the weekend. The filming of the final episode comes less than a year after Rhimes confirmed that Season 7 would be the show's last. Speaking to The Hollywood Reporter in May 2017, Rhimes said:
Deciding how to end a show is easy. Deciding when to finish is quite simple when the end date is years away. But actually going through with it? Actually standing up to say: 'This is it?' Not so much. So, next year we are going all out. Leaving nothing on the table. Creating this world in celebration. We are going to handle the end the way we like to handle the important things in our Scandal family: all together, white hats on, Gladiators running full speed over a cliff.
After sharing a series of behind-the-scenes photos throughout the momentous day, Rhimes posted a final message on Twitter when filming concluded.
Bellamy Young, who plays the current president of the United States in Scandal's timeline, posted a video of the immediate aftermath of the end of filming. In it, a group of people on set, all with their phones whipped out to capture the moment, cheer for the series.
Those scanning the last day's footage for any story hints are out of luck – although there are brief glimpses of other actors in the clip, the majority of people appearing in it seem to be crew members. The video ends with a focus on Rhimes applauding along with everyone else.
Darby Stanchfield, another original cast member, posted a photo of herself having a teary moment with lead lady Kerry Washington.
Stanchfield, aka Abby Whelan, also shared some insight into the cast and crew's wrap party afterwards. As any TV-related party must have, a blooper reel played, and I can only hope that fans will see this reel one day. Is it just me, or are blooper reels for drama shows even better than ones for comedies?
Washington shared her feelings on both Instagram and Twitter, first saying on Twitter that she was "overwhelmed with gratitude."
Throwing it back to one of the show's original concepts, she posted a photo with Tony Goldwyn on Instagram, reminding viewers that Olivia and Fitz's affair was a key part of the show's success in the beginning.
In an even sweeter move, Washington also posted a picture of herself with Judy Smith, the crisis manager who Olivia Pope is based upon.
Smith, who worked for the president during the George H.W. Bush administration, represented clients such as Monica Lewinsky and Kobe Bryant in their times of real-life scandal. In a 2013 interview with The Washington Post, Smith explained the nature of her job as a fixer:
The truth of the matter is, when you think about it, we all make mistakes. And, quite frankly, we all screw up. . .But I am truly a big believer in forgiveness and second chances.
Although Scandal may have had its melodramatic moments as all dramas tend to do occasionally, Smith definitely summarized the essence of the show in her explanation. Scandal totally emphasized that second chances are possible for nearly everyone, and perhaps that's why fans will miss the show the most.
Thankfully, we still have a month of Scandal left for the cast's emotional messages to sink in. The series finale airs on Thursday, April 19, on ABC.