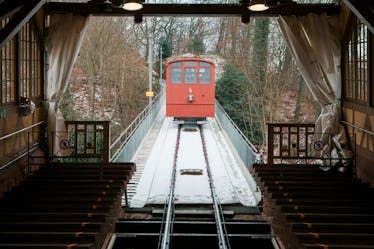 The Santa Claus Express Will Take You To The Northern Lights & It's 'The Polar Express' IRL
There are a lot of childhood movies I would love to experience in real life. I used to fantasize about my toys coming to life, just like in Toy Story, and you bet I wanted a genie that would grant me three wishes like Aladdin. But as I've grown out of these childhood daydreams, one fantasy has always stuck in my mind: I want to visit the North Pole on a magical train ride like The Polar Express. Luckily, I can. The Santa Claus Express will take you to see the Northern Lights, and it's legit The Polar Express in real life.
This is not a drill. The Eurail pass offers travelers the incredible opportunity to travel through Finland via the festive Santa Claus Express, from Helsinki (in the south) all the way up to Rovaniemi and Kemijärvi (in the north). Finland is known for its snowcapped mountaintops, breathtaking landscapes, and unparalleled views of the Northern Lights. The train is a double decker that's completely lined with windows, so you can sightsee to your heart's delight.
What's on the train's itinerary?
The magical journey starts in Finland's capital, Helsinki. There, you can explore the incredible architecture and sites, from the Helsinki Cathedral to the Temppeliaukio Church. From there, the train stops in Tampere and Oulu before finally making its way up to Rovaniemi and then Kemijärvi, which is the final stop.
Rovaniemi is located on the Arctic Circle, and is known to be "the Official Hometown of Santa Claus." Part of the town is referred to as "Santa Claus Village," where you can explore Santa Claus Main Post Office, Santa Claus Office, and Santa Park. (Anyone can mail letters to Santa that will arrive at the post office!)
In the park, you can hang out with the elves and participate in elf school, taste gingerbread cookies, and so much more. You'll see native reindeer, whole forests-full of Christmas trees, and the breathtaking Northern Lights.
How do I book the trip and what can I expect on the train?
Reservations are required to take a trip on the Santa Claus Express. You can book through their online reservation service, call when you're there, or attempt to chance it at the train station. (They strongly recommend against it because the train can fill up pretty quickly.)
If you just want a seat, tickets are 21 euros ($24.05). Keep in mind that this train runs through the night, so you're probably going to want a sleeper. A double sleeper is 36 to 43 euros (around $41 to $49) per person, while a single sleeper is 95 to 114 euros (around $108 to $130). If you're thinking of springing for a private bathroom, a double sleeper with a private bathroom runs 41 to 48 euros (around $46 to $54) per person, and a single sleeper with a private bathroom ranges from 105 to 124 euros (around $120 to $142).
The train is packed with amenities, including air conditioning, luggage racks, power sockets, WiFi, showers, and restrooms, as well as a restaurant/bistro.
So, what are you waiting for?
If you're looking to book a winter wonderland getaway, there's no better time to go than during the holiday season. The Santa Claus Express will help you experience the North Pole like a little kid. Now all that's missing is Tom Hanks as the train's conductor.