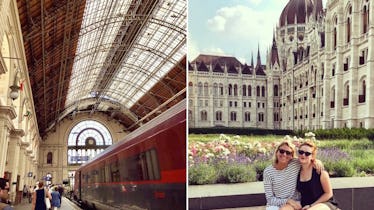 This Millennial Train Ride Through Europe Is What Your 20s Bucket List Has Been Missing
When I embarked on a whirlwind trip through Eastern Europe this summer, I anticipated a bit of frenzied chaos: five nights, five friends, five countries, and three cities. (Well, technically five cities if you count the Warsaw and Frankfurt layovers, which of course, I do.) The Warsaw airport gives a flavor of the country — filled with modern art and smoking lounges. (It is Europe, after all.) My friends and I were traveling the romanticized way, on a millennial train ride through Europe, with Eurail.
If train travel reminds you of star-crossed lovers trekking across the country in black-and-white movies, it likely feels like a bit of a throwback in today's world of cheap plane fares and last-minute trip bookings. As a result, train travel has reached Wes Anderson-levels of nostalgia and glorification — which is fitting, considering my trip felt like #AccidentallyWesAnderson from start to finish. Walking amongst the vivid pastels of Prague's Old Town Square and the quirky Art Nouveau buildings of Vienna, I felt like I was starring in a remake of The Grand Budapest Hotel. Once I finally arrived in Hungary's capital, I was taken aback by the decadent party scene at Budapest's neo-Baroque Szechenyi Baths.
Every moment on my journey brought a new adventure, and I had never felt so thoroughly immersed in so many different cultures in such a short period of time. Eurail allows you to capitalize on the close proximity of many European cities. The train ride may only last a few hours, but once you arrive, you're in a vastly different world. I never anticipated the ease of travel, affordability, and adventure Eurail would offer my travel experience. These are six reasons why this millennial train ride should be on the top of your bucket list.