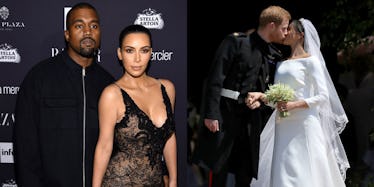 Here's How Meghan & Harry's Royal Wedding Compared To Kim & Kanye's Italian Nuptials
Dimitrios Kambouris/WPA Pool/Getty Images Entertainment/Getty Images
If you ask me, there's only one famous wedding that has been extravagant enough to compare to the royal wedding: Kim Kardashian and Kanye West's. Both weddings took over Europe with their lavish ceremonies, had massive guest lists, and so, so much more. With all the staggering similarities, I'm questioning Kim and Kanye's wedding versus the royal wedding more than ever.
On May 19, Prince Harry and Meghan Markle exchanged their vows at Windsor Castle. The day comes just under six months after the two announced their engagement, which Markle described to the BBC as a "surprise." According to her, Prince Harry popped the question while they were hanging out and — wait for it — roasting a chicken. "And it was just — just an amazing surprise," she told the outlet. "It was so sweet, and natural, and very romantic. He got down on one knee."
If you remember, Kimye's engagement was also a surprise to the KKW Beauty mogul. The Graduation rapper rented out San Francisco's AT&T Park under the guise of a 33rd birthday celebration for Kardashian, and invited 100 of their closest family members and friends to attend, according to PopSugar. When the reality star heard the orchestra playing Lana Del Rey's "Young and Beautiful" (one of her favorite singers, if I might add) and saw "PLEEEASE MARRY MEEE!!!!" flash on the Jumbotron, she turned around, shocked, to find her beau down on one knee with a gorgeous 15-carat diamond ring from jeweler Lorraine Schwartz in his hand.
Where do they find men like this?! Asking for myself...
Anyway, speaking of the grooms, both Prince Harry and West stepped out of tradition when choosing their best men. In April, the Palace announced that Prince Harry chose Prince William to serve as his best man, a break in royal tradition. Nonetheless, William was "honoured to have been asked," and was "very much looking forward to supporting his brother at St George's Chapel, Windsor on May 19th," according to a tweet from the Kensington Palace. In similar fashion, the Adidas designer — rather than choosing a best friend or a close family member to serve as his best man, like American tradition — chose fellow musician and mentor JAY-Z as his best man. Ultimately, the 4:44 rapper failed to attend the ceremony, but there weren't any hard feelings behind his decision. (Well, not anymore, at least.)
There are, of course, some differences in their weddings, too — like the guest lists, for example. While Kimye decided to keep things pretty private, Prince Harry and Markle's wedding was quite the opposite. The two even invited more than 2,600 members of the public to watch them say "I will" (which is what they traditionally say instead of "I do"), saying they want them "to feel part of the celebrations too," according to a statement from Kensington Palace.
In the most surprising twist, though, Kardashian and West's wedding cake was ironically meant for a king and queen while the royal couple kept theirs simpler. Kimye had an enormous, seven-foot-tall confection that was created with seven tiers of white cake and white icing with fruit layers, crafted by Galateo Ricevimenti, according to Hollywood Life.
Prince Harry and Markle, however, chose a cake that was a bit unconventional (IMO, at least): a lemon elderflower cake "that will incorporate the bright flavours of spring. It will be covered with buttercream and decorated with fresh flowers," according to a tweet from the Kensington Palace. Excuse me, my mouth is watering. Sorry.
With these comparisons, one thing is crystal clear: Both of these weddings are legendary and are absolutely some of my favorites. IRDK if they can ever be topped, but I'll be looking forward to seeing who comes close.