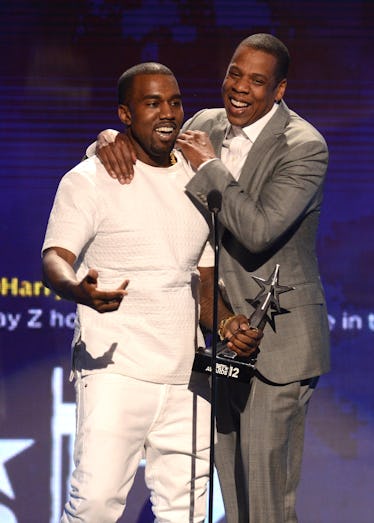 Kanye West Got Real About JAY-Z & Beyoncé Missing His Wedding: "I Was Hurt"
Michael Buckner/Getty Images Entertainment/Getty Images
When Kanye West married Kim Kardashian back in 2014, he was hoping to see all of his closest friends, family members, and associates at the event. Among those invited were none other than JAY-Z and Beyoncé. Unfortunately for West, the two mega stars missed out on his big day. Needless to say, West was more than dismayed. Although celebrating a huge life event, Kanye West's reaction to JAY-Z and Beyoncé missing his wedding is completely understandable.
In a new interview with radio personality Charlamagne tha God, West talked about a host of topics, including his disappointment over not seeing JAY-Z and Beyoncé at his wedding. During the interview, West explained that he was hurt they didn't show:
I was hurt about them not coming to the wedding, I understand he was going through some things, but if it's family, you're not going to miss a wedding.
So, does that mean West and JAY-Z are less than family now? Not at all, according to West. They're still friendly and have the utmost respect for each other, which is awesome.
"We good," West explained of his relationship with JAY-Z. "We texting each other, positive energy."
But all that positive energy aside, West and JAY-Z haven't seen each other in a while, which West hopes won't be the case forever:
I haven't seen him, but I can feel him. We'll do it. Sometimes also when you have such similar personalities ... they need to do it on our own.
Sounds like the two are just giving each other space. And that's always a good and healthy thing to do in friendships. Nothing to worry about here!
As for whether West knows why JAY-Z skipped out on his wedding, it doesn't really seem to matter. West has moved on and isn't very keen to dwell on it. When Charlamagne tha God pressed him, he responded:
I'm not sure; I'm past it, but at the time I was hurt about it. I don't think I ever asked him that question directly.
West married Kardashian on May 24, 2014 during a lavish ceremony at Fort di Belvedere in Florence, Italy. The private ceremony reportedly cost $2.8 million and featured performances by singers Andrea Bocelli and Lana del Rey.
Prior to the big day, the couple spent an extravagant week in Paris to celebrate their new lives together. Festivities included trips to the Eiffel Tower, shopping sprees, and a pre-wedding brunch at the Valentino mansion. Pretty fancy!
All of Kardashian's family was there to see the two exchange vows. Guests also included friends like LaLa Anthony, Joyce Bonelli, Monica Rose, and Brittny Gastineau. So, it doesn't look like they were missing JAY-Z and Beyoncé all that much. There were plenty of other people there to celebrate!
The two love birds also went on a lengthy honeymoon in Ireland where they enjoyed the great outdoors. From there, they jetted off to the Czech Republic where they spent some time in the capital of Prague.
Of the honeymoon, Kardashian shared some insights on Twitter:
Had the best most relaxing romantic honeymoon in Ireland & Prague! Missed my baby girl so much! Excited to be home to squeeze her so tight!
At the time, West and Kardashian were new parents to little North, who wasn't even a year old yet! Since their nuptials in 2014, West and Kardashian have also welcomed Saint, now 2, and Chicago, who was born in late 2017.
For all the hoopla over why JAY-Z didn't show up to the Kardashian-West wedding, it seems like West had a great time. Plus, he's doing better than ever right now. His family is healthy and growing, and he's about to drop some new music on his adoring fans.
So, all in all, West is way past the wedding snub and looking to a bigger, brighter, and happier future! Kudos to him!