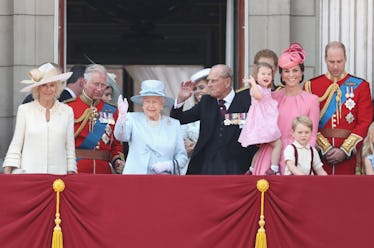 The Palace Shared The Most Heartwarming Family Photos For Prince Charles' 70th Birthday
Chris Jackson/Getty Images Entertainment/Getty Images
Prince Charles will be turning 70 on Nov. 14. And just ahead of his birthday, Clarence House has released a couple of photos of the royal family that will definitely warm your heart! In the royal family photos for Prince Charles' 70th birthday, you can see all your favorite royals: Charles, his wife Duchess Camilla, Prince William, Kate Middleton, Prince Harry, Meghan Markle, and of course, Princess Charlotte and Princes George and Louis. So, the gang's all there to celebrate Charles' birthday.
The sweet family photos were published to Clarence House's official Instagram. In the photos' caption, Clarence House wrote, "Two new photographs of The Prince of Wales and his family have been released to celebrate HRH's 70th birthday. The photos were taken by @chrisjacksongetty in the garden of Clarence House."
While the caption is pretty formal, the photos definitely don't give off the same vibe. Judging by the smiles on everyone's faces in the photos, this was a heartwarming family gathering that was full of love and happiness. Even the little ones George, Charlotte, and Louis are all smiles. In one photo, everyone is totally composed and sitting up straight. It definitely gives off a more "posed" kind of vibe.
You can check out that photo down below:
In the second Instagram photo published by Clarence House, you can see that there was a lot of fun going on in the garden when the family wasn't posing for the camera. Everyone is laughing, even Prince Charles!
Here's a look at that adorable photo:
The royal family is clearly happy to be together in celebration of Charles' 70th birthday. I mean, it's a big birthday to commemorate and I'm sure it's exciting and meaningful to Charles that he can have his whole family there with him.
Chris Jackson, the photographer who snapped the photos, also shared a bit of background information on his own Instagram account. According to his post, Jackson has been photographing Charles for 15 years and has traveled the world covering royal engagements. He also said that the birthday shoot in the garden was "relaxed" and "informal", so these are special photos.
Anyway, this is what Jackson had to say on Instagram:
Happy Birthday to the Prince of Wales! 70 tomorrow! I've travelled all over the world photographing the Prince of Wales for the last 15 years from Durbars in Nigeria to the Galápagos Islands, Pakistan, Japan and many more as well as well as covering numerous domestic Royal Engagements so I was delighted to have been asked to take these official portraits of The Prince surrounded by his family to celebrate the important milestone of his 70th Birthday. It was particularly special to capture such an informal and relaxed family portrait over a fun afternoon in the gardens of Clarence House! #princecharles70 #princeofwales @clarencehouse @gettyimages
It sounds like Jackson had a great time snapping some photos of the royal family. It also sounds like that shoot in the garden meant a lot to Jackson and everyone else involved. Love it!