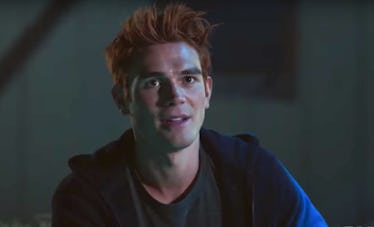 Next Week's 'Riverdale' Promo Shows Archie Falling For A Mysterious New Woman
CW
This week's new episode of Riverdale ended with the core four splitting off into different directions, and next week's episode will continue that with three separate storylines for our main characters. The Riverdale Season 3 Episode 7 promo is here to give us our first peek at what everyone is up to now that they are separated, and it is honestly hard to decide who is falling into the shadiest business. The episode's title also promises to at least get us one step closer to finally finding out who the Gargoyle King is.
Spoiler alert: Don't read on if you have not yet watched Riverdale Season 3 Episode 6, "Manhunter." Wednesday night's latest new episode of Riverdale ended on a pair of shocking cliffhangers, as our core four split up for, really, the first time that we have seen in the show. Veronica is still running her speakeasy in town like before, but Betty now finds herself trapped within the Sisters of Quiet Mercy shelter, and Archie and Jughead have left Riverdale altogether. Showrunner Roberto Aguirre-Sacasa teased in an interview with TheWrap that next week's episode, "The Man in Black," will be a twist on the standout Season 2 episode "Tales from the Darkside," which switched up the show's structure to present three standalone stories starring a different member of the core four. The newly released promo trailer for Episode 7 reveals what those stories will be.
The teaser shows Archie moving on from his breakup with Veronica pretty quickly, as he hooks up with a mysterious woman at a farm that he and Jughead are staying at. That woman is Laurie Lake, a new character played by Riley Keough. At least Jughead is there to provide some much needed side-eye. Back in Riverdale, Veronica is off to the casino after finding out her speakeasy is in trouble, where she will make a very big bet. And on the spooky side of things, Betty runs into Ethel at the Sisters of Quiet Mercy, and her classmate does not seem too happy to see her.
Check out the teaser for "The Man in Black" below:
Obviously, there is a lot to talk about in this trailer. Most pressingly, we have Laurie Lake, whom we do not really know anything about. But the fact that she lives on a farm is not a good sign on this show... not to mention that knife she pulls out during her seduction scene with Archie. We have yet to actually see the mysterious cult called The Farm on the show; could Laurie's farm be somehow connected to that cult?
Then there's Veronica at the casino. Although we don't see his face, the teaser pretty much confirms that Veronica will be placing her big bet against Elio, her former suitor whom she nearly opened Sweetwater Casino with until she found out he was going to use it as a front for criminal activities. Elio actually helped Veronica out recently by helping her break Archie out of jail, but it looks like that help may have come at a price.
And finally, there's Ethel's surprise return as a resident of the Sisters of Quiet Mercy. We already know that Ethel is one of the Gargoyle King's most devoted disciples, and the end of last episode showed that the Sisters of Quiet Mercy is full of people who are obsessed with the demonic figure. Although it is not an ideal place for Betty to be, it looks like she will be getting a lot of answers while she's there.
Strangely, Hiram Lodge does not appear in the trailer at all despite the episode's title being "The Man in Black." Last episode, Joaquin revealed that Warden Norton was getting his murderous orders from a man in black that Jughead knows. He naturally assumed it must be Hiram, but perhaps it is actually someone else.
Riverdale Season 3 Episode 7, "The Man in Black," will premiere on the CW on Wednesday, Dec. 5 at 8 p.m. ET.