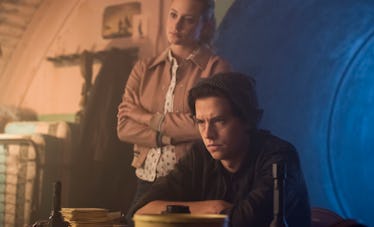 Next Week's 'Riverdale' Trailer Will Make Fans Extra Worried For Jughead
CW
A mysterious board game has taken over the town of Riverdale, and it looks like we are finally going to find out how Griffons and Gargoyles is actually played in next week's new episode of Riverdale. The Riverdale Season 3 Episode 3 trailer teases that the upcoming third episode of this season will see Jughead diving head first into the role-playing world of Griffons and Gargoyles, which is actually pretty frightening considering how most of the people who have played the game wind up dead. The trailer also includes some other pretty shocking twists, such as Archie's dangerous new prison hobby and the hook-up that fans have been waiting months for.
Spoiler alert: This post contains details from the first two episodes of Riverdale Season 3. With the mysteries of the Gargoyle King and The Farm becoming more twisted than ever after this week's second episode of Riverdale Season 3, fans are still trying to figure out an explanation for all this strange new supernatural stuff that is turning the town upside down. Basically, we know that the Gargoyle King is somehow connected to a tabletop game called Griffons and Gargoyles, which Dilton, Ben, and Ethel became obsessed with throughout the summer, and players of the game seem to keep winding up dead, either from drinking cyanide like Dilton or willingly jumping out of a window like Ben. There's also the question of whether all of this is related to The Farm, since Betty seems to keep witnessing the cult perform what appears to be magic.
Thankfully, it looks like Episode 3 will start to give us some more answers about all of this stuff. The new promo teaser for next week's episode reveals that Jughead will begin playing a game of Griffons and Gargoyles with Ethel, which is great for giving us new information about what the hell is going on, but also pretty scary for Jughead's fate if he winds up like Ben or Dilton. Check out the new trailer below:
As for the weirdness with The Farm, it appears that will be another major part of the new episode. Evelyn Evernever invites Betty to one of the cult's meetings, so hopefully that will give us some more information about The Farm. And then there is also Veronica opening up her speakeasy under Pop's and Archie will apparently enter some sort of underground prison boxing league. We also see a flash of Cheryl Blossom sitting on Jughead's Serpents throne — could she possibly be gaining some power in the gang while Jughead is off playing board games?
For fans of Riverdale romances, the trailer also includes one of the most anticipated hook-ups of the season, as we see F.P. Jones and Alice Cooper snuggled up with one another in bed. The two parents have had wild chemistry with one another throughout the series, and it looks like fans will finally get to see them come together next week.
Riverdale Season 3 Episode 3, "As Above, So Below," will air on Wednesday, Oct. 24 at 8 p.m. ET on the CW.