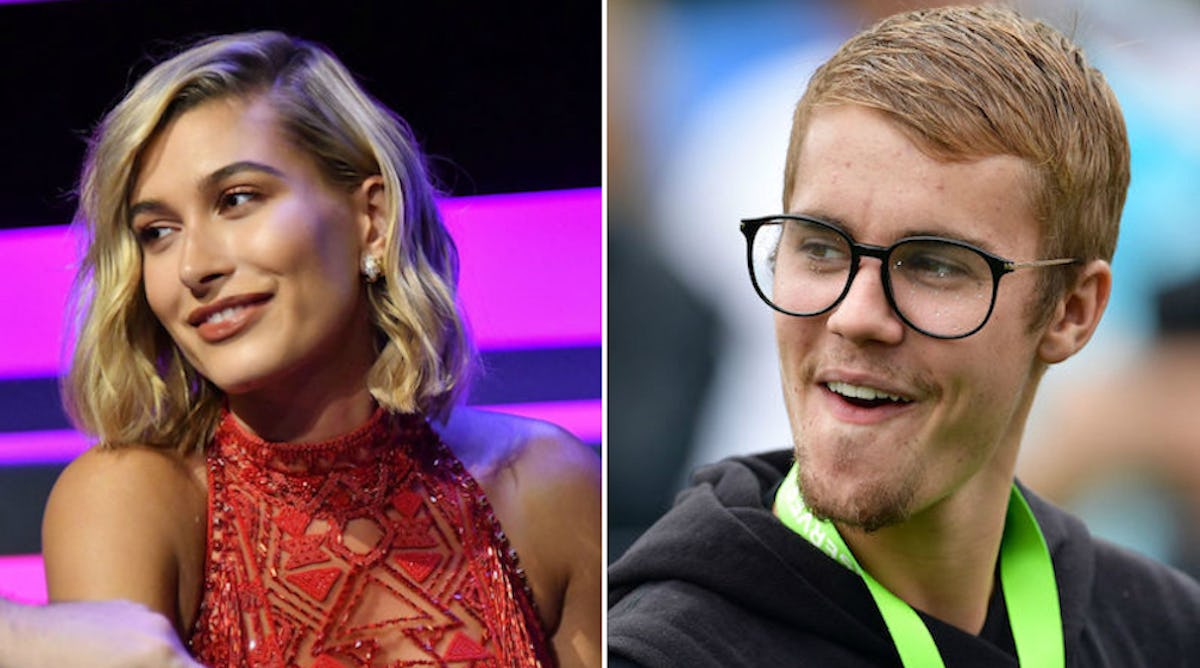 The Reported Reason Why Justin Bieber Proposed To Hailey Baldwin So Quickly Is Cute AF
Mike Coppola/Getty Images for Tribeca Film Festival/ Stuart Franklin/Getty Images
Who are we to judge anyone's budding love story? More specifically, who are we to question why some people get engaged so quickly? Let's all take a minute to chill and ease up on Justin Bieber and Hailey Baldwin, OK? OK. And on that note, I think it's important to understand the reason why Justin Bieber proposed to Hailey Baldwin so quickly. Maybe if we just took a step back and saw that these two love birds are really serious about getting hitched, we'd all be a little less concerned with the fact that they are young and haven't been dating for long, and more invested in supporting Jailey.
According to People, Justin Bieber's proposal was proof that he's serious about his new fiancé, Hailey Baldwin, and that he is 100% committed to their relationship. A source told the publication,
This is not a joke to him. He proposed because he truly feels Hailey is the love of his life. He had a rough time last year, but he worked very hard to change and find more meaning in his life. Hailey couldn't make him happier.
Elite Daily has reached out to Bieber's team for comment on the report, but did not hear back by the time of publication.
Can we all just pause and realize how grown up and mature Bieber has clearly become? It's a pretty big departure from a previous younger Biebs if you ask me.
The source also explained that, while Bieber and Baldwin have talked about their return to New York City, they're simply enjoying their post-proposal time in the Bahamas, where they got engaged. "They want to stay in the Bahamas for as long as possible. They are having the best time. They are just enjoying being engaged. They know when they leave, there will be a lot of attention on them," the source said. "Justin released the statement because he wants everyone to know why he proposed and how he feels about Hailey."
That statement, of course, was Bieber's Instagram post confirming his engagement to Baldwin, after TMZ reported that Justin Bieber proposed to Hailey Baldwin on Saturday, July 7. Eyewitnesses who claimed to watch the proposal go down said that Bieber's security detail asked everyone to put their phones away before he figuratively got down on one knee (we don't know if he did for sure or not, because there were no phones, duh).
Many fans were in disbelief over the news — that is, until Bieber's adorable Insta post on July 9, declaring Hailey Baldwin as "the love of his life." In part of his caption, he wrote,
Was gonna wait a while to say anything but word travels fast, listen plain and simple Hailey I am soooo in love with everything about you! So committed to spending my life getting to know every single part of you loving you patiently and kindLY ... My heart is COMPLETELY and FULLY YOURS and I will ALWAYS put you first! You are the love of my life Hailey Baldwin and I wouldn't want to spend it with anybody else ... Gods timing really is literally perfect, we got engaged on the seventh day of the seventh month, the number seven is the number of spiritual perfection, it's true GOOGLE IT! Isn't that nuts? By the way I didn't plan that, anyways My goodness does feel good to have our future secured!
That same day, Baldwin confirmed her engagement to Bieber on Twitter, expressing her overwhelming "happiness" and "gratitude." She wrote,
Not sure what I did in life to deserve such happiness but I am so utterly grateful to God for giving me such an incredible person to share my life with! No words could ever express my gratitude.
I think that about sums it up, you guys. These two are totally serious about getting married, and totally serious about the love they have for each other.