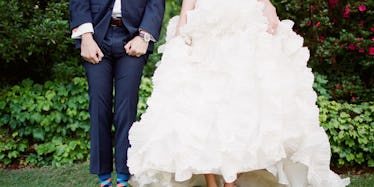 The "Relationship Rabbi" Reveals 6 Signs You're Marrying The Wrong Person
Before getting married, some people meet with their religious leader to discuss their relationship. If you're religious, you might want to meet with the person who leads your congregation to discuss your relationship before you and your partner get married. Thanks to their experience working with couples, some religious leaders can even be considered relationship experts. The relationship rabbi, Rabbi Judy Greenfeld, has observed signs and red flags you should be aware of before you walk down the aisle, no matter what your religious affiliation is.
As a rabbi, it is Greenfeld's duty to offer guidance and support to couples on the road to marriage. But she makes clear that even when she sees red flags in a couple, it is their duty to come to the conclusion they are not right for one another.
"I do not believe that it is my place to advise a couple to marry or not marry," Greenfeld tells Elite Daily. "It must be a personal, adult decision that comes from each individual."
Furthermore, Greenfeld thinks there is a divine aspect of marriage. "Who am I to say what is [the Hebrew word] b'shert, or 'meant to be'," she says. "Some people may call this luck, but I believe this is all part of the journey, and that all the 'issues' that come up are 'opportunities' to grow together and apart."
Here are the signs you and your partner shouldn't get married (yet), according to Greenfeld.