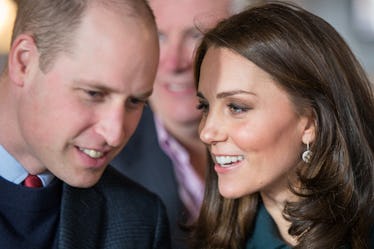 Kate Middleton Is Jealous Of Prince William For The Most Hilariously Relatable Reason
WPA Pool/Getty Images Entertainment/Getty Images
Prince William and Kate Middleton, Duke and Duchess of Cambridge, have quite an endearing relationship. They've been together for over a decade, have three wonderful children together, and still manage to make the world swoon over how cute they are. Even when there's jealousy brewing between the two, the royal couple somehow makes it seem super cute. Like on Tuesday, Sept. 25, when Prince William addressed a crowd in Namibia and joked that his wife was a bit sore at him for a peculiar, but relatable reason. So, what's the reason Kate Middleton is jealous of Prince William? Well, thanks to his trip to Namibia, he's getting a few day's rest without the kids and that's making Kate wish she was resting, too.
A Sept. 27 report from Us Weekly detailed Prince William's appearance in Namibia. During the British High Commissioner's reception, Prince William expressed his (and his wife's) feelings about traveling to Namibia for the first time.
"I'm delighted to be visiting Namibia for the first time. I'm only sorry that my wife Catherine is not able to join me," he said. "She is immensely jealous. Particularly as I'm looking forward to a few good uninterrupted night's sleep this week away from my wonderful children."
William and Kate are, of course, parents to Prince George, 5, Princess Charlotte, 3, and 5-month-old Prince Louis. With a house full of three young kids, it's no wonder that William and Kate are desperate for a bit of rest. Hopefully, Kate has all the royal help she needs so she, too, can get a good night's sleep.
But if recent reports are anything to go by, Kate is gearing up to step back into the public eye more fully in the coming months. According to People, the Duchess of Cambridge is wrapping up her maternity leave, so she can have a more active role in the public arena. Kate will be visiting Sayers Croft Forest School and Wildlife Garden at Paddington Recreation Ground on Tuesday, Oct. 2. The visit to the school will officially mark the end of her maternity leave.
During her visit, Kate will reportedly learn about how the school uses nature and outdoor activities to educate urban schoolchildren. Kate will also meet some of the students involved in the project.
While Kate has made some sporadic public appearances since giving birth to Prince Louis in April, she hasn't been going at full speed like she was pre-baby. So, now that little Prince Louis is a bit older, it seems like she's ready to get back out there. People reported that Kate will be slowly filling her schedule with engagements over the next few months and resume her full schedule in January 2019.
Needless to say, Prince William will probably be the jealous one pretty soon since Kate is getting ready to ramp up her schedule once again. While he may be enjoying some kid-free time now, I'll bet she'll be the one enjoying the same in a few month's time. All told, though, the royal couple seems to manage their parenting duties really well, so it all balances out!