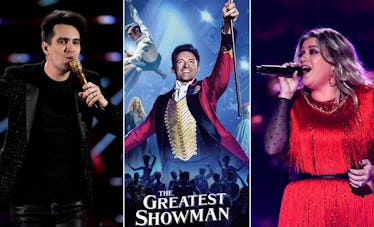 Your Favorite Singers Are Covering 'Greatest Showman' Songs On The Re-Released Soundtrack
Kevin Winter/Getty Images, 20th Century Fox
The Greatest Showman is about to get even greater, because a ton of A-list singers have recorded their own versions of the movie musical's original songs and you will be able to hear them all very soon. A new report from Variety just revealed that a star-studded, re-released Greatest Showman soundtrack is going to be released next month, and it will feature covers by Kelly Clarkson, Pink, Kesha, Sara Bareilles, and Panic! at the Disco, among a bunch of other major names in the music world.
The original soundtrack to The Greatest Showman, which was released alongside the movie last December, featured its stars Hugh Jackman, Zac Efron, Zendaya, Michelle Williams, Keala Settle, and Loren Allred belting out the theatrical tunes penned by songwriting duo Benj Pasek and Justin Paul. The Pasek and Paul team was also behind other hit original musicals recently such as La La Land and Dear Evan Hansen, so it was no wonder that their Greatest Showman songs also became smashes and gained a ton of celebrity fans — many of whom lend their voices to this new, reimagined soundtrack.
The new release is called The Greatest Showman — Reimagined, and it will feature a surprisingly diverse group of famous rock bands, pop stars, rappers, and crooners covering the movie's soundtrack. Check out the track list for the upcoming album below:
The Greatest Show – Panic! at the Disco
A Million Dreams – Pink
A Million Dreams (Reprise) – Willow Sage Hart
Come Alive – Years & Years and Jess Glynne
The Other Side – MAX and Ty Dolla $ign
Never Enough – Kelly Clarkson
This Is Me (The Reimagined Remix) – Keala Settle, Kesha and Missy Elliott
Rewrite The Stars – James Arthur and Anne-Marie
Tightrope – Sara Bareilles
From Now On – Zac Brown Band
The Greatest Show – Pentatonix (Bonus track)
Come Alive – Craig David (Bonus track)
This Is Me – Kesha (Bonus track)
Rewrite The Stars (Acoustic) – Zendaya (Bonus track)
Fans will have to wait until The Greatest Showman — Reimagined is released on Nov. 16 to hear most of these new versions, but there is one that is already out. Kesha's version of the movie's biggest breakout track This Is Me had already been previously released. However, the new album will also include a remix of Kesha's solo version, which will also include the song's original performer Keala Settle as well as Missy Elliott.
Another intimate touch on the upcoming release will be Pink singing "A Million Dreams" with her 7-year-old daughter Willow Sage Hart.
Panic! at the Disco frontman Brendan Urie described how his band got involved in this album, revealing that it had been in the works for about a year now and that he was immediately drawn to the track "The Greatest Show" because it was completely Panic!'s style of song:
Benj Pasek and Justin Paul are phenomenal writers. They sent that song over and said, "We think you should sing this." And I heard it and I was like, "This sounds like a Panic! song. You guys did a Panic! song better than I've ever done a Panic! song. So I would love to."
The Greatest Showman — Reimagined will be released on Nov. 16.